School of Nursing Convocation
Wednesday, May 18, 2022
11:00am – NJPAC – 1 Center St, Newark, NJ
---
2022 Convocation Speaker
DENISE V. RODGERS, MD, FAAFP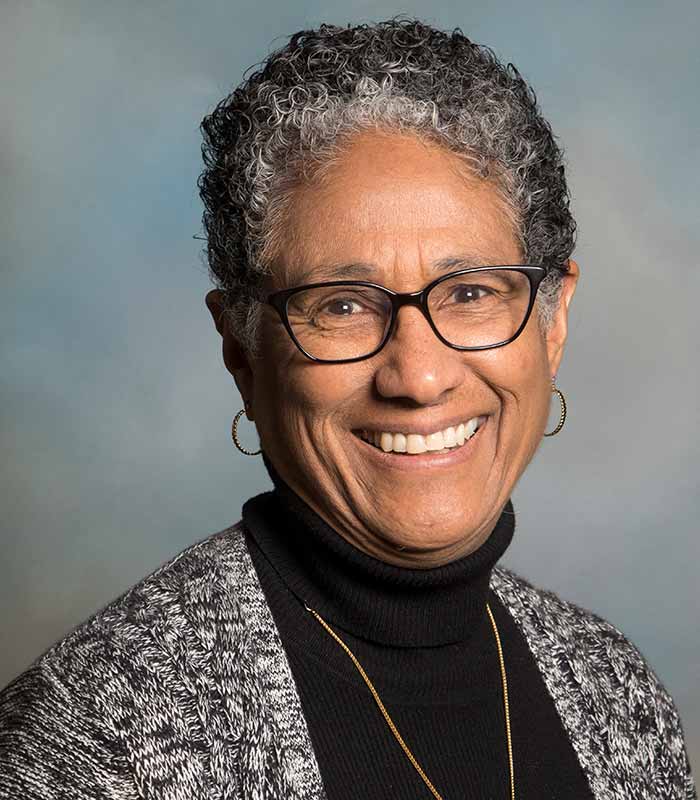 Dr. Denise V. Rodgers is Vice Chancellor for Interprofessional Programs at Rutgers Biomedical and Health Sciences, overseeing the training of health professions students to work as highly effective members of healthcare teams. She is also the RBHS Chair in Interprofessional Education at Rutgers-Robert Wood Johnson Medical School where she is a professor in the Department of Family Medicine and Community Health. Prior to these appointments, Dr. Rodgers served as the fifth and final president of the University of Medicine and Dentistry of New Jersey (UMDNJ) from January 1, 2012 to June 30, 2013. From 2006 to 2013, Dr. Rodgers led UMDNJ's academic and clinical operations as Executive Vice President. She served as UMDNJ Chief of Staff from 2005 to 2006. From 1997 to 2005, Dr. Rodgers was Senior Associate Dean for Community Health at
the UMDNJ- Robert Wood Johnson Medical School.

Dr. Rodgers has spent much of her career working with poor, minority and disadvantaged patients and communities. She currently chairs the steering committee for the Believe in a Healthy Newark culture of health initiative that is funded by RWJF/
New Jersey Health Initiatives. She chairs the board of directors for the Healthy Greater Newark Medicaid ACO and is a member of the board of the Greater Newark Healthcare Coalition. From October 2016 to April 2017 she served as interim director of the Newark Department of Health and Community Wellness.

Prior to joining UMDNJ, Dr. Rodgers was professor and vice chair in the University of California, San Francisco Department of Family and Community Medicine and director of the San Francisco General Hospital Family Medicine Residency Program. She also served as family medicine Chief of Service at SFGH. From 1994 to 1996 she served as Chief of Staff at San Francisco General Hospital. In this role she was also a member of the executive leadership team for the San Francisco Department of Public Health.

In 1999, Dr. Rodgers was elected to be the inaugural chair of the DHHS HRSA Advisory Committee on Training in Primary Care Medicine and Dentistry, a role she held until 2003. In 2001, Dr. Rodgers was elected president of the Society of Teachers
of Family Medicine (STFM) and in 2009, she was awarded the STFM Recognition Award. Dr. Rodgers is currently a member of the Association of American Medical Colleges (AAMC) Medical Center Leaders Caucus, having previously served on the
AAMC Advisory Panel on Health Care.

Dr. Rodgers received a Bachelor of Arts in psychobiology from Oberlin College and graduated from Michigan State University College of Human Medicine. She completed her family medicine training in the Residency Program in Social Medicine at Montefiore Medical Center in the Bronx.

Dr. Rodgers is board certified in family medicine and is a diplomate of the American Academy of Family Physicians.
---

---
Information for Class of 2022
(August 2021, October 2021, January 2022, and May 2022 Graduates)
Checklists for Graduates
January 2022 Graduates
(Second Degree Program)
Apply for graduation by January 15th
View Checklist
May 2022 Graduates
(Traditional and Second Degree Program)
Apply for graduation by March 1st
View Checklist
Graduate Degrees
(DNP, Masters and PMC)
January 2022 Graduates – Apply for graduation by November 1st
RSVP
Regalia
Order your regalia (Cap and Gown) from Oak Hall today.
Contact Us
Student Services
Ackerson Hall, Suite 102
180 University Ave.
Newark, NJ 07102
songraduation@sn.rutgers.edu
---
The 2022 Grand Marshall for Convocation on May 18th 2022 was Dr. Barbara Caldwell. 
The 2022 student recipient of the 2022 Stanley S. Bergen Medal of Excellence was Melinda Moyer DNP, FNP-BC, RN, CCRN, FN-CSA.    
---
---
Transitioning from Student to Alumni
Let's not say goodbye. How about see you later? After graduation, we encourage you to keep in touch with us by being part of the SON Alumni Association, Check out the job board, or keep us updated on your accomplishments for our newsletters.
Update My Info and More – We want to stay in touch with you, but you're going to have to meet us halfway. Click here to update your contact information, share personal or professional news, and sign up to get a print copy of Rutgers Magazine.
Welcome to the RUAA! – Your Rutgers journey is just beginning – because now you're part of a powerful alumni network with more than 500,000 members living around the world. When you stay Scarlet Forever by connecting with the university and keeping up with your friends and classmates, you're unstoppable.
Things to know.
CONNECT accounts (Email, Onedrive, etc.) are locked 2-3 weeks after graduation, but you can keep a Rutgers Scarletmail address as an alumni. You may want to set automated replies or retain other info BEFORE your account is locked – View instructions.