Rutgers School of Nursing Alumni Association
Alumni Award Gala on November 30, 2023!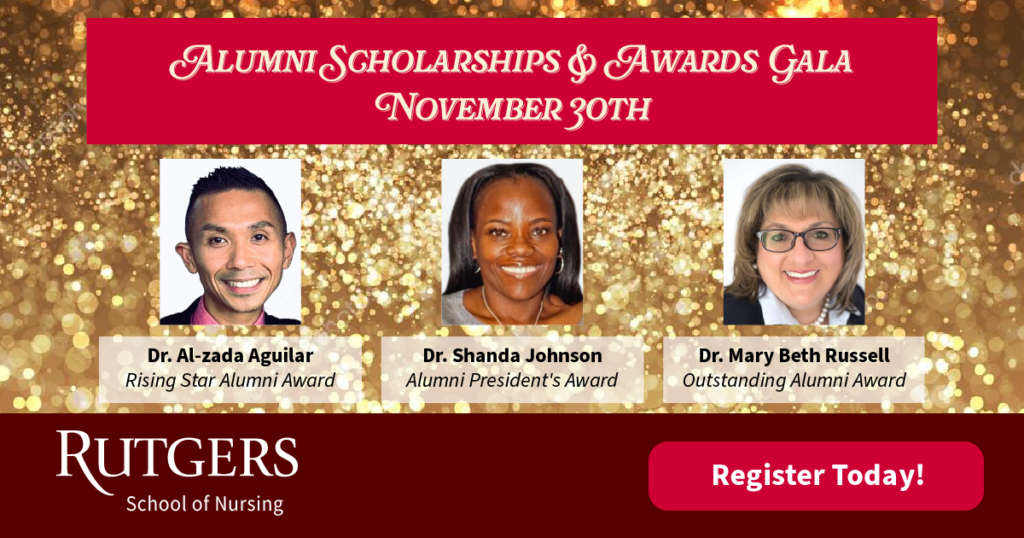 Please mark your calendars, find your favorite pair of dancing shoes, and get ready to celebrate with us on Thursday, November 30, 2023, for the Annual Nursing Alumni Awards Gala from 6:30pm – 10:30pm at the Primavera Regency in Stirling, NJ.
This evening is dedicated to recognizing the achievements of our alumni award winners, acknowledging student scholarship recipients, celebrating the contributions of retiring faculty members, and most importantly raise money for student scholarships.
Your presence at the gala would be an honor as we collectively celebrate the achievements of our Nursing community and recognize the lasting impact of retiring faculty members.
Sponsorship information is available here.
Alumni Awards and Student Scholarships
Each year, we recognize the outstanding achievements of our alumni and give back to the future of nursing at our annual Scholarship and Awards Gala. Learn more below.
---
Connect with Us
Rutgers School of Nursing values its relationship with alumni and invests in activities, events, and programs that bring maximum value to our students, alumni, and health care partners. The SON alumni network is available to our graduates, but it relies on our alumni to keep active and effective.
Stay connected by receving our newsletters, sharing your own news, and contacting us directly.
---
News for You
Honoring Excellence: Nursing School Alumni Awards Application Now Open
We are absolutely thrilled to announce that it's that time of the year again! The Rutgers School of Nursing Alumni Association is now accepting applications for the prestigious Rising Star and the Outstanding Alumni Awards. Deadline for Submissions is extended to Thursday, October 26, 2023.


Spotlight: Rutgers Nursing Alumni & Published Author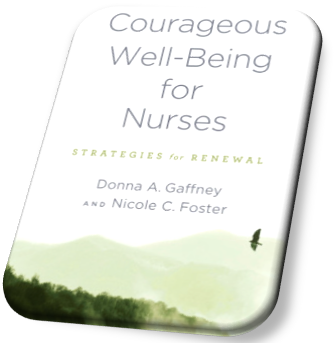 RSONAA would like to take a moment to recognize Donna Gaffney GSNB'77!

Courageous Well-Being for Nurses provides nurses with the tools, practices, and strategies to enhance their well-being and protect against burnout.
Exhausting schedules and a tumultuous work environment have left many nurses feeling burned out.
The COVID-19 pandemic only compounded problems that have been plaguing nurses for decades. How can you take care of others when you don't have the time or energy to take care of yourself?
In Courageous Well-Being for Nurses, Advanced Practice Psychiatric-Mental Health Nurse, psychotherapist, and educator Donna Gaffney and National Board-certified health and wellness coach Nicole Foster provide essential strategies and resources.
Courageous Well-Being for Nurses will be released on September 5, 2023.
Nursing Degrees – Her Passport to the World
Like many who find their true love at college, Jane Coury found hers at Rutgers: public health nursing, with a focus on maternal and child health.
Her Rutgers nursing degrees became her passport to a life of adventures in faraway places: Partnering with the Minister of Health in Egypt to reduce the nation's high smoking rate and reduce maternal childbirth deaths. Researching Navajo medical records to qualify them for settlements in a class-action suit against uranium mining. Pioneering a program that provided public health services in a high-crime area at a facility converted from a brewery.
Alumni Resources
Gallery
Rutgers School of Nursing 50th Reunion Celebration! Recognizing the Classes of '70, '71, '72, and' 73
Our alumni were invited to visit the Rutgers School of Nursing campus and facilities for a tour followed by brunch and updates from Dean Linda Flynn, staff, and fellow nursing alumni.
Alumni Association Annual Meeting and Brunch 2023
Our Alumni Association Annual Meeting took place on June 10, 2023, with a morning of mimosas, light brunch, and new beginnings as we celebrated Rutgers Nurses. Take a look back at the day's events through our photo album!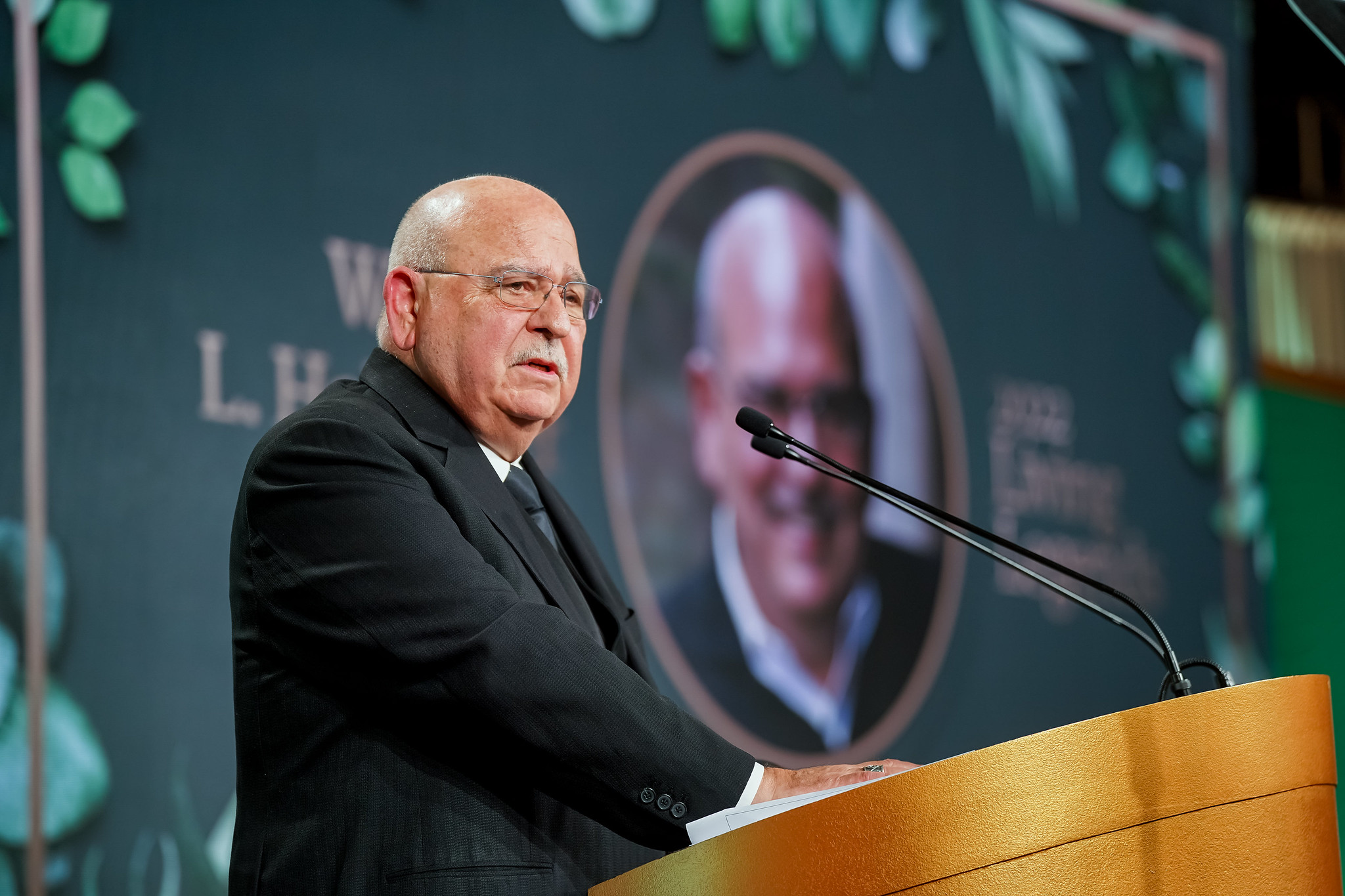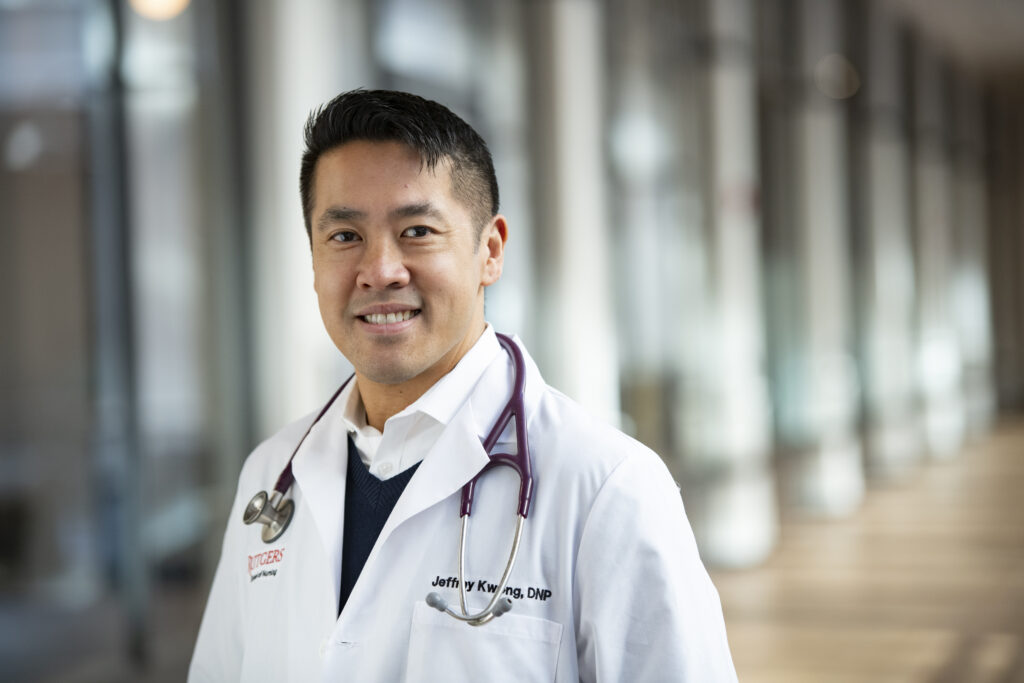 Seeking Part-time Clinical Instructors
Immediate Openings Available
Help shape the future of nursing! We are seeking nursing professionals to teach clinical components for these specialties:
Adult Health
Maternal Health
Mental Health
Pediatrics
Positions require a master's degree in nursing and a current New Jersey RN license (or eligibility). A doctorate in nursing or related discipline, specialty certification, and teaching experience are preferred.
Share your passion and expertise with the next generation of nurses.
Campus locations: Newark, New Brunswick, and Blackwood
About Us
Mission, Vision, and Goals
As alumni, we work to support the mission, goals, and aspirations of our beloved and prestigious alma mater, Rutgers School of Nursing. As the school grows, we continue to build on its rich and vibrant history of nursing education, service, and research.
– Foster the social and educational interests of alumni members.
– Foster communication among alumni, students, and faculty.
– Maintain alumni interest in current Rutgers School of Nursing programs and promote the loyalty of its alumni.
– Foster continued interest in current programs of Rutgers School of Nursing, support its recruitment, and sustain its mission and related activities.
– Promote and encourage bachelor's and advanced degrees in nursing education.
– Encourage involvement in professional nursing organizations.

Our objective is to support and sustain the aim of Rutgers School of Nursing of establishing its planned and proposed centers and institutes of excellence, and to continue our tradition of excellence in the educational preparation of professional nurses.

Contact
Contact us by emailing rsonaa@rutgers.edu or calling (973) 353-5415. You can also reach individual board members, committee chairs, and the association liaison.
A Look Back on Alumni