The Seacole Effect: A Career Navigation Masterclass for Minority Nurses in Leadership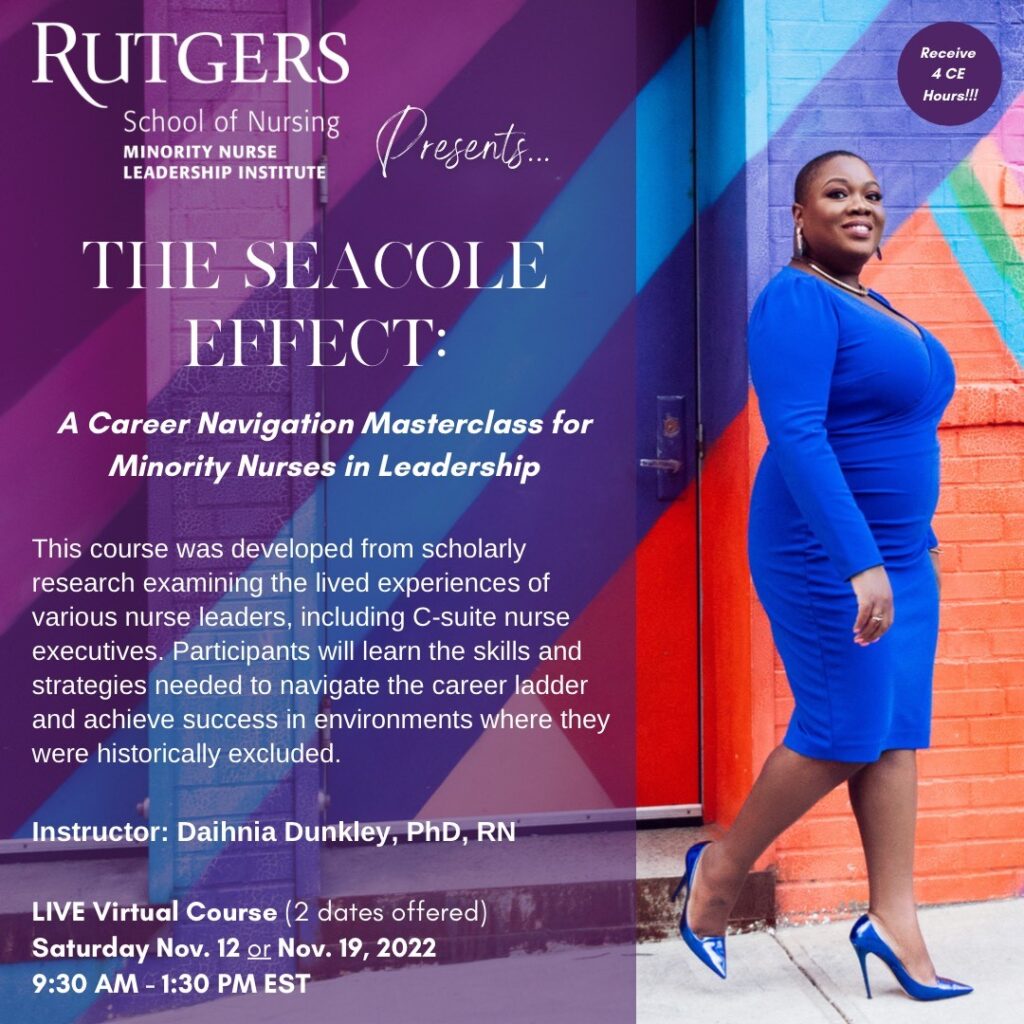 ---
A one-day, 4 contact hour, course offered on the following dates
11/12/2022 – 9:30 am to 1:30 pm
11/19/2022 – 9:30 am to 1:30 pm
(Virtual, via Zoom)
The aim of this course is to provide evidence-based leadership development strategies to current and aspiring minority nurse leaders in order to assist efforts to increase representation and achieve health equity. This four hour virtual course was developed from scholarly research examining the lived experiences of various nurse leaders, including C-suite nurse executives. Participants will learn the skills and strategies needed to navigate the career ladder and achieve success in environments where they were historically excluded.
Objectives
By the end of the course, participants will be able to
Recognize how individuals' foundational values affect their leadership abilities.
Outline the various educational and professional preparatory events necessary for career growth as a nurse leader.
Develop strategies for career mapping and obtaining opportunities for advancement.
Distinguish the differences between the organizational requirements and the personal responsibilities of a leader.
Appraise various sources of career disenfranchisement and power structures.
Respond to oppressive forces with healthy coping mechanisms in professional environments.
Formulate techniques for building professional networks and support systems.
Limited seats are available.
Tuition is $397.00
Registration
Faculty
Daihnia Dunkley, PhD, RN
Senior Lecturer, Graduate Entry Pre-Specialty in Nursing (GEPN) & Masters of Science Programs
Co-Chair, GEPN Program
Yale School of Nursing
---
Planners and Speakers have no conflicts of interest to disclose regarding this educational activity.
There is no commercial support or sponsorship for this activity.
Questions?
cpdn@rutgers.edu
973-972-6655
---
About the Minority Nurse Leadership Institute
The Minority Nurse Leadership Institute (MNLI) is designed for aspiring minority nurse leaders who have their bachelor's degree in nursing and at least two years of experience in full-time nursing practice. MNLI Fellows are chosen through a competitive selection process.
Our Purpose
The MNLI curriculum includes a variety of educational strategies for developing leadership knowledge, competence, and outcomes. The 10-month mentored leadership development curriculum is built upon the foundation of three domains:
Individual minority nurse leadership development.
Advancing evidence-based nursing practice to address minority and community health challenges through leadership of team projects.
Fellows' expanded scope of influence within their sponsoring institutions, the community, and the profession.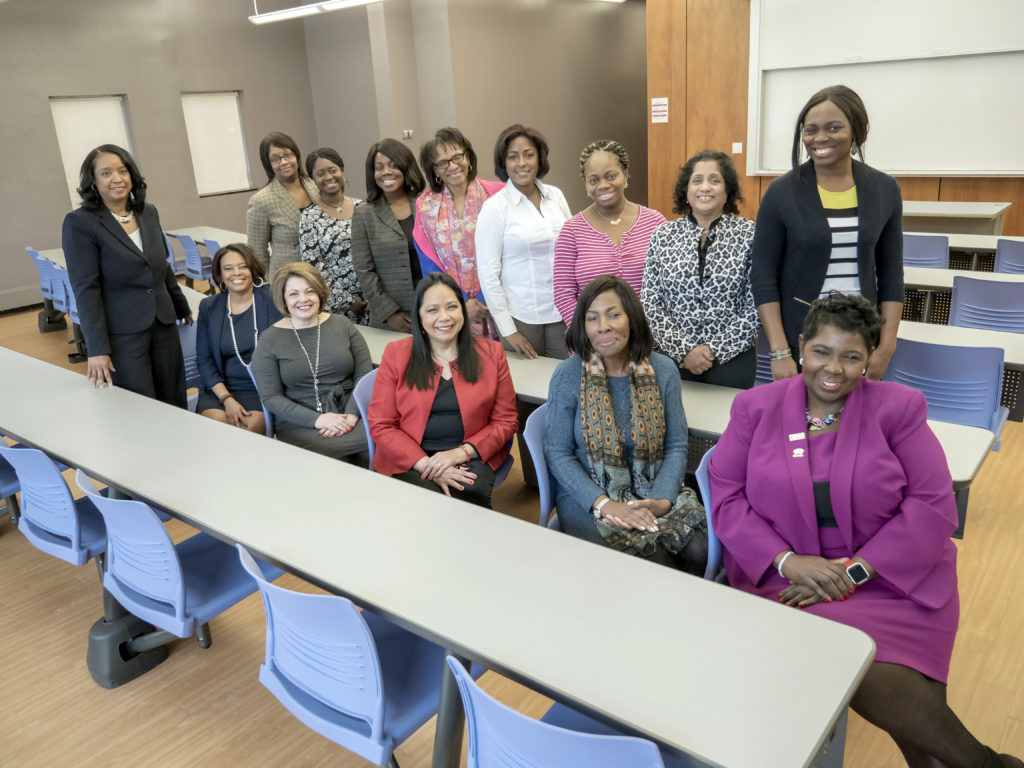 Fellow Requirements
Information about applying for the next cohort beginning in 2023 is coming soon
Attend and actively participate in 10 monthly Saturday Seminars.
Select a leadership mentor with the Institute's assistance and meet monthly.
Provide leadership for and complete a team project designed to improve evidence-based nursing practice that addresses a selected minority community health challenge.
Attend end-of-year presentations by Fellows on their team projects.
Nursing contact hours will be awarded to MNLI Fellows upon their completion of the MNLI experience.
Contact
Olga F. Jarrín Montaner, PhD, RN, FAAN
Associate Professor, Division of Nursing Science
Director, Community Health and Aging Outcomes Lab
Director, Minority Nurse Leadership Institute
Rutgers School of Nursing
Co-Director of Integrating Special Populations in Research, NJ Alliance for Clinical and Translational Science (NJ ACTS)
112 Paterson Street, Room 307
New Brunswick, NJ 08901
Office: 848-932-1171
olga.jarrin@rutgers.edu
---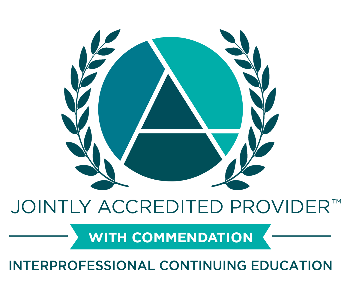 In support of improving patient care, this activity has been planned and implemented by Rutgers Biomedical and Health Sciences and Joint Provider. Rutgers Biomedical and Health Sciences is jointly accredited by the Accreditation Council for Continuing Medical Education (ACCME), the Accreditation Council for Pharmacy Education (ACPE), and the American Nurses Credentialing Center (ANCC), to provide continuing education for the healthcare team.