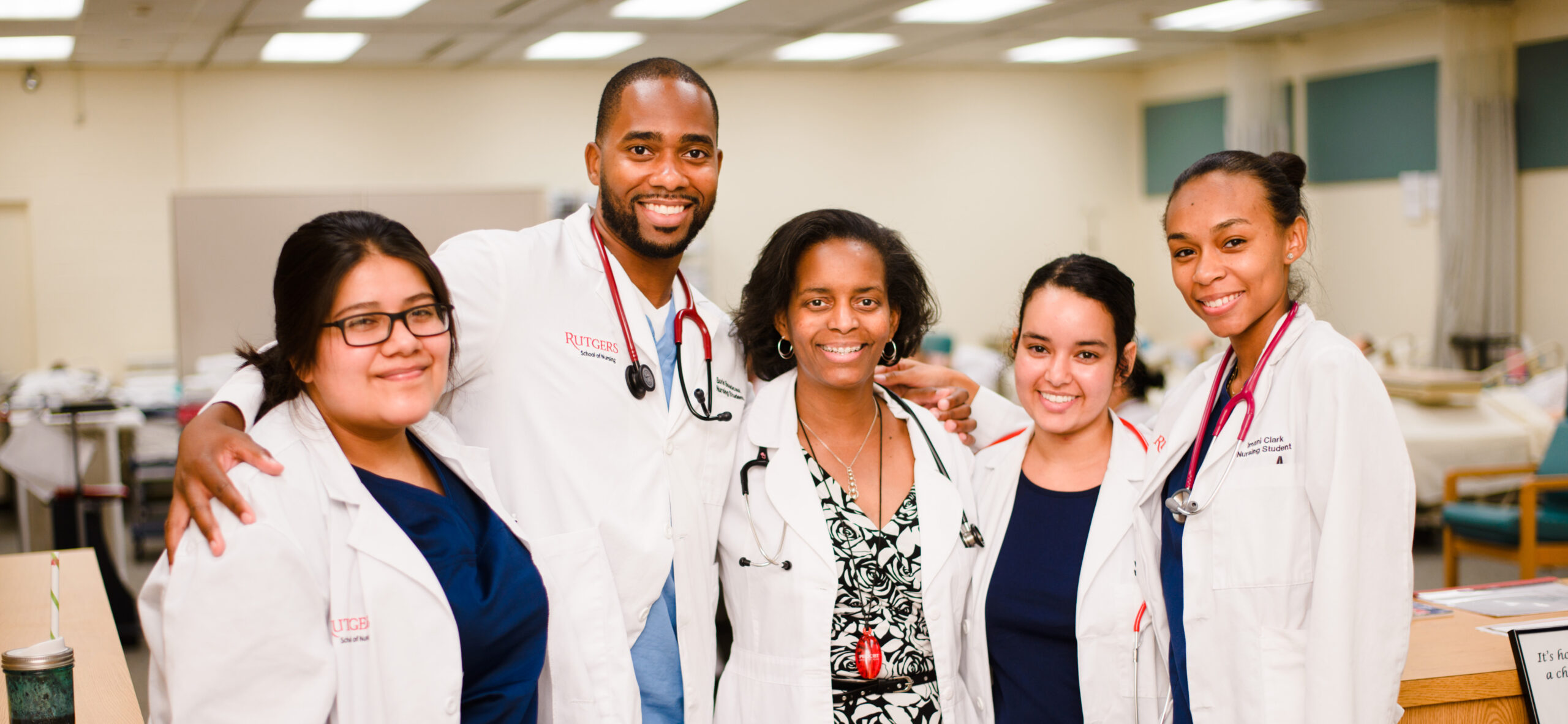 Pursuing Excellence Through Equity
Rutgers School of Nursing is committed to creating and cultivating an environment that is not only diverse and equitable, but that is actively working against racism and bias in our institutional practices, classrooms, curriculum, and daily interactions. In other words, we want diversity, equity, and inclusion (DEI) to be valued principles that manifest themselves from the inside out, from the top down. In this pursuit, we don't just want to look excellent; we want to be excellent—through putting intent to action.
Diversity, Equity, and Inclusion Efforts at School of Nursing
Staying true to our motto of embodying Excellence in Action, Rutgers School of Nursing is taking several specific steps to actively work against racism and bias, while intentionally cultivating a community of diversity and inclusion at the school.
In July 2020, Rutgers School of Nursing Dean Linda Flynn spearheaded a three-part approach to combatting racism and bias at School of Nursing.
This tripartite initiative includes:
The formation of the Dean's Committee on Anti-Racism and Anti-Bias
The implementation of "Impact Dialogue Circles"—a series of listening sessions with faculty, staff, and students designed to listen to the community and implement action based on feedback
The development of an anonymous digital hotline to report incidences of racism and bias directly to the dean.
DEI Efforts Across Rutgers and RBHS
Embracing a culture of inclusive excellence means an institution commits to adopting a means for the cohesive, coherent, and collaborative integration of diversity and inclusion into the institutional pursuit of excellence.
This is part of Rutgers School of Nursing's own commitment, as well as the commitment of the greater Rutgers University and Rutgers Biomedical and Health Sciences (RBHS) division, of which Rutgers Nursing is both a part and a partner.
Learn more about the Rutgers University President Jonathan Holloway's priorities, as well as the RBHS Diversity Strategic Planning Committee and School of Nursing's involvement in this effort.
Rutgers University Diversity Priorities
Rutgers President Dr. Jonathan Holloway has established five institutional diversity priorities to govern and be the foundation of DEI efforts across the university, including Rutgers Biomedical and Health Sciences (RBHS) and, by extension, School of Nursing.

1. Recruit, retain, and develop a diverse community
2. Promote inclusive scholarship and teaching
3. Define substantial and substantive community engagement
4. Build capacity for leaders to create inclusive climates
5. Develop and institutional infrastructure to drive change