Linda Flynn, PhD, RN, FAAN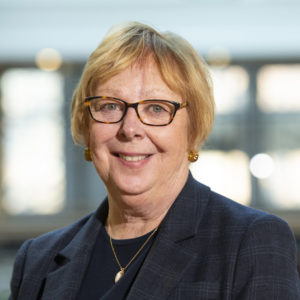 Dean and Professor
Division of Nursing Science
Newark
ACK 202A
(973) 353-3848
Specialty: Health care systems research
Widely recognized for her extensive research into the effects on patient outcomes of system factors such as nurse staffing levels and organizational culture, Dr. Linda Flynn serves as dean and professor at Rutgers School of Nursing.
Her funded program of research stands out by extending beyond hospitals and into non-acute care settings, including home health care and nursing homes. She is a frequent collaborator with Dr. Charlotte Thomas-Hawkins, at Rutgers School of Nursing. Together, they focus on the seldom-examined effect of staffing levels on patient outcomes in outpatient dialysis – currently a hot policy issue in several states.
Within the hospital setting, she quantified relationships among the practice environment, nurses' safety practices, and the frequency of medication errors in 82 medical/surgical units. Building on those findings, she recently designed and tested the Nurse Manager in Action Program (NMAP) to improve patient safety. Currently, she is the co-lead on two PCORI-funded projects aimed at improving veteran health through healthcare system modifications.
In recognition of her accomplishments, Dr. Flynn was the recipient of Rutgers School of Nursing's 2015 Outstanding Alumni Award. She is also the co-editor of the textbook, "Nursing Policy Research: Turning Evidence-Based Research into Health Policy." She was inducted as a Fellow in the American Academy of Nursing in 2009, and is currently an honorary Senior Fellow at the Center for Health Outcomes and Policy Research, University of Pennsylvania.
Her current position marks the third time Dr. Flynn has been part of the Rutgers School of Nursing team. She served as associate dean for graduate education and as a professor from 2010-2012, and from 2003-2008 as an assistant professor and director of research for the New Jersey Collaborating Center for Nursing.
Immediately before this engagement at Rutgers, Dr. Flynn served from 2012-2017 as a tenured professor at the University of Colorado, Denver's Anschutz Medical Campus. She was associate dean of academic programs from 2013-2016 and interim associate dean of research there from 2016-2017.
From 2008-2010, Dr. Flynn was as associate professor and director of the graduate program in community health at the University of Maryland School of Nursing in Baltimore.
Before first arriving at Rutgers in 2003, Dr. Flynn completed a postdoctoral research fellowship at the University of Pennsylvania, under the direction of Dr. Linda Aiken. Before beginning her academic career, she had been the senior vice president and chief operating officer of the Essex Valley Visiting Nurse Association in East Orange, NJ, and director of clinical services for the Visiting Nurse Association of the Delaware Valley in Trenton, NJ.
Dr. Flynn earned her Ph.D. in Nursing Research from Rutgers and was one of the first students to graduate from the program. She holds a master's degree in community health nursing from Rutgers and a bachelor's degree in nursing from the University of Maryland.