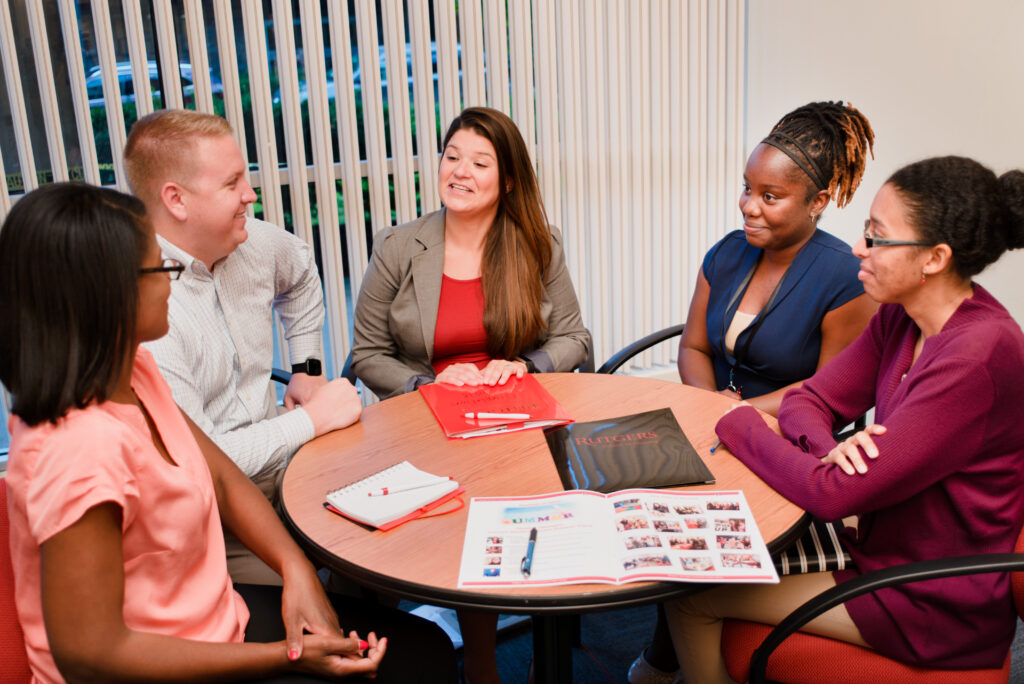 Rutgers School of Nursing and Rutgers Biomedical and Health Sciences (RBHS) are active participants in the greater Universitywide Diversity Strategic Planning Process (UDSP).
The UDSP is rooted in a commitment to pursing inclusive excellence though five diversity priorities as outlined by Rutgers University President Jonathan Holloway. School of Nursing Dean Linda Flynn is co-chair of the RBHS-UDSP steering committee—together with Vice Chancellor for Diversity and Inclusion at RBHS, Sangeeta Lamba—which was created to address these priorities at the chancellor level.
Follow the links below to learn about each level of Diversity Strategic Planning, including findings and resources.
Inclusive Excellence
Inclusive Excellence means an institution has adopted means for the cohesive, coherent, and collaborative integration of diversity and inclusion into the shared pursuit of excellence. Strategic planning is the process through which we will assess and align our efforts in service of this goal.
University Diversity Priorities
Recruit, retain, and develop a diverse community
Promote inclusive scholarship and teaching
Define sustainable and substantive community engagement
Build the capacity of leaders to create inclusive climates
Develop an institutional infrastructure to drive change
RBHS –UDSP Steering Committee
Chairs: Linda Flynn, Sangeeta Lamba
Recruit, Retain, and Develop a Diverse Community
Perry Halkitis
Herminio Perez
Meredith Mullane
Promote Inclusive Scholarship and Teaching
Gwen Mahon
Charlotte Thomas-Hawkins
Define Substantial and Substantive Community Engagement
XinQi Dong
Teri Lassiter
Frank Ghinassi
Build Capacity for Leaders to Create Inclusive Climates
Cecile Feldman
Pat Whitley-Williams
Ravi Maharajh
Develop Institutional Infrastructure to Drive Change
Joseph Barone
Nataki Douglas
Kyle Warren
*Includes RBHS Organizational Unit Leadership (School/Institute/Center); Diversity Leadership Council; RBHS Strategic Planning DEI sub-committee leads: Non–faculty Leadership
RBHS Diversity Strategic Planning Committee and Process
UDSP Main Page
Diversity Planning Toolkit
Rutgers Equity Scorecard