Rutgers School of Nursing remains a Top 20 nursing school in 2022 U.S. News Rankings
March 30, 2021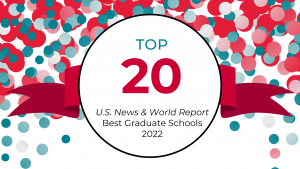 Continuing a track record of excellence in nursing education, Rutgers School of Nursing holds its place among the nation's top 20 nursing schools in rankings published in U.S. News & World Report's 2022 edition of Best Graduate Schools.
Rutgers School of Nursing ranks 15th out of 163 schools for its Doctor of Nursing Practice (DNP) program and 19th among 220 schools ranked for its Master of Science in Nursing (MSN) program in the U. S. News report released March 30.
"I am delighted that our DNP and master's programs are, once again, considered to be among the premier graduate nursing programs in the nation," said Linda Flynn (PhD, RN, FAAN), professor and dean of Rutgers School of Nursing. "This recognition serves as a reminder that our faculty, staff, and students continue to personify excellence in action."
The DNP program includes options for both post-bachelor's and post-master's students and includes 12 specialization areas, including a leadership-focused track. The MSN program offers two tracks: nursing leadership and informatics.
In addition to its elite U.S. News rankings for academic programs, Rutgers School of Nursing also has been recognized as a Center of Excellence in Nursing Education by the National League for Nursing and has received the annual Best Schools for Men in Nursing award for the past three years from the American Association for Men in Nursing.
About Rutgers School of Nursing
As one of the nation's largest, most comprehensive nursing schools, Rutgers School of Nursing (SON) is dedicated to the pursuit of excellence in education, research, evidence-based health care delivery, and the promotion of community health. SON offers programs across all levels of nursing practice — bachelor's, advanced practice, doctoral, and certificate and professional development programs. SON is one of eight schools comprising Rutgers Biomedical and Health Sciences (RBHS) — New Jersey's largest and most influential constellation of academic institutions devoted to nursing, medicine, dentistry, advanced health-related sciences, pharmacy, public health, and the full spectrum of allied health careers.