Rutgers School of Nursing receives annual Best Schools for Men in Nursing Award for third year
November 4, 2020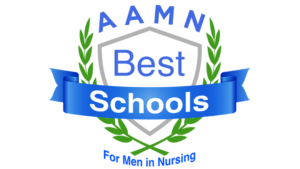 Continuing its winning streak, Rutgers School of Nursing has received the Best Schools for Men in Nursing Award for the third year in a row (2018, 2019, and now, 2020). The continued recognition from the American Association for Men in Nursing firmly underscores the school's outstanding accomplishments in supporting development of a diverse nursing workforce.
The award is presented annually to acknowledge outstanding efforts in recruiting and retaining men in nursing, in providing men a supportive educational environment, and promoting widespread awareness about men's contributions to the nursing profession.
Rutgers School of Nursing was one of eight schools to receive the 2020 award during AAMN's virtual conference held in October. Rutgers student chapter officers participated in the conference and accepted the award, along with Kyle D. Warren, senior vice dean for administration and student services, and Kofi G. Polley, director of administration and the chapter's advisor.
"We are honored to receive this award and we value all that AAMN does. We are proud to represent its values in our community," said Jeremy Baptista, chapter president.
Announcing Rutgers award, the AAMN noted, "Rutgers School of Nursing has been committed to increase diversity and gender in particular for many years…and has had an active chapter for 6 years…Your history, consistency, quality and commitment to creating an inclusive environment for men who are becoming professional nurses is noteworthy. You should be very proud of your work and the work of your leadership team."
With males comprising more than 14 percent of its student body, School of Nursing is a leader in gender diversity, serving as a pipeline for men to enter the nursing profession or prepare for advanced practice. Only 11 percent of nation's RN workforce today is male (U.S. Department of Labor 2019).