Rutgers School of Nursing ranked among nation's top nursing schools in new rankings from U. S. News & World Report
September 21, 2021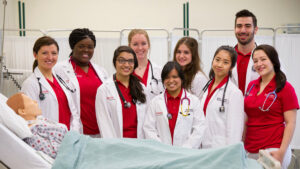 Bachelor of Science in Nursing program ranked No. 31 in U.S., No. 1 in New Jersey
Rutgers School of Nursing is ranked among the top five percent of nursing schools in the country for its bachelor's programs by U.S. News & World Report's 2022 Best Bachelor of Science in Nursing (BSN) Programs report published this month. Ranked No. 31 out of 694 undergraduate nursing programs evaluated, School of Nursing is also the highest-ranked program in New Jersey.
"We are so pleased to be nationally recognized for the high quality and rigor of our bachelor's program," said Linda Flynn (PhD, RN, FAAN), professor and dean of Rutgers School of Nursing. "We are thankful for the excellent faculty, academic leaders, students, and staff who are responsible for this achievement."
Part of U.S. News' flagship annual "Best Colleges" ranking, "Best Undergraduate Nursing Programs" is a new ranking category. Included in the listing were accredited four-year and degree-completion programs that conferred at least 35 degrees in 2018-2019.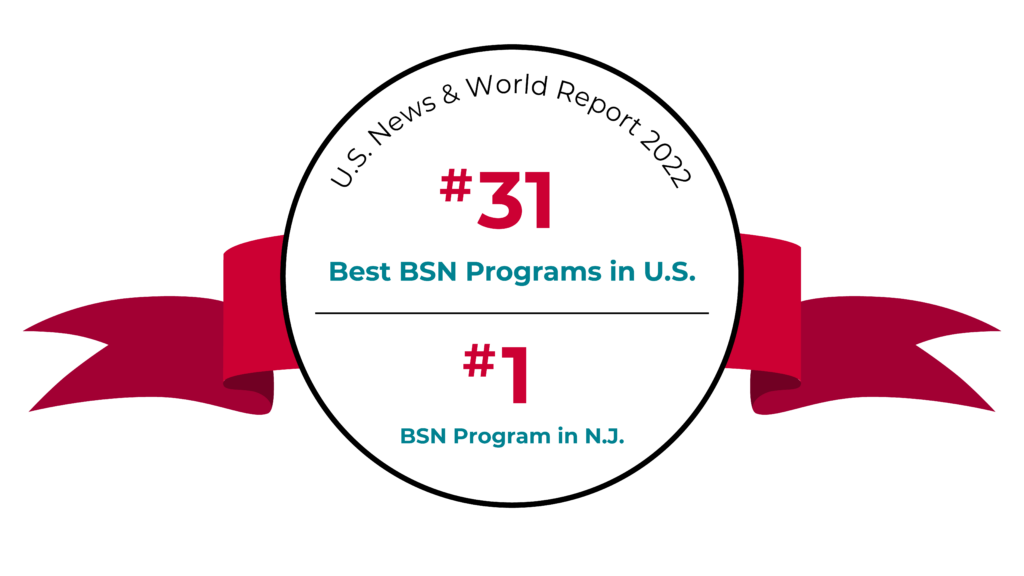 The recognition is a significant honor, said Wendy Budin (PhD, RN-BC, FAAN), associate dean of the Entry to Baccalaureate Practice Division. "It is a testament of not only our strong innovative curriculum and the commitment of our faculty, but also the quality of our outstanding, hard-working students," she said.
Rutgers School of Nursing offers several pathways to achieving a Bachelor of Science in Nursing degree: a traditional four-year program for high school graduates; a second-degree program for applicants with a bachelor's degree in another discipline; and an RN to BS in Nursing program for applicants who are already registered nurses.
In the Blackwood 2 +2 program, students are enrolled for two years in community college before they complete their junior and senior years at Rutgers School of Nursing on the Blackwood campus of Camden County College.
The new U.S News ranking for the BS in Nursing, is a continued reflection of Rutgers School of Nursing's track record of excellence. In graduate nursing education, the school stands among the nation's top 20 programs according to U.S. News, ranked No. 15 for its Doctor of Nursing Practice (DNP) program and No. 19 for its Master of Science in Nursing (MSN) program.
In addition to its elite U.S. News rankings for academic programs, Rutgers School of Nursing has been named a Center of Excellence in Nursing Education by the National League for Nursing and has received the annual Best Schools for Men in Nursing award for the past three years from the American Association for Men in Nursing.
About Rutgers School of Nursing
As one of the nation's largest, most comprehensive nursing schools, Rutgers School of Nursing (SON) is dedicated to the pursuit of excellence in education, research, evidence-based health care delivery, and the promotion of community health. With locations across New Jersey in Newark, New Brunswick, and Blackwood, SON offers programs across all levels of nursing practice—bachelor's, advanced practice, doctoral, and certificate and professional development programs. SON is one of eight schools comprising Rutgers Biomedical and Health Sciences (RBHS)—New Jersey's largest and most influential constellation of academic institutions devoted to nursing, medicine, dentistry, advanced health-related sciences, pharmacy, public health, and the full spectrum of allied health careers.