Michele Livich Roberts, MSN, RN, CNE, CEN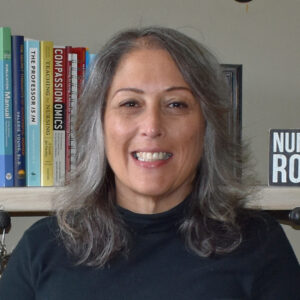 Lecturer and Clinical Learning Facilitator
Division of Entry to Baccalaureate Nursing
Newark Health Sciences
SSB 1042
Specialty: Simulation design and development, realism in simulated learning environments, alternative educational models in nursing curricula
Michele Livich Roberts is a Lecturer and Clinical Learning Facilitator in the Center for Clinical Learning (CCL) at Rutgers, The State University of New Jersey, School of Nursing. Ms. Roberts facilitates clinical learning experiences for undergraduate and graduate nursing students, and participates in interprofessional education activities with students enrolled in health professions programs within Rutgers Biomedical and Health Sciences. Ms. Roberts' current academic interests are centered on simulation research specific to techniques that allow students to achieve affective learning outcomes during high-fidelity simulation experiences, and efforts to increase student engagement in simulation. Ms. Roberts is credentialed as a Certified Nurse Educator (CNE).
Ms. Roberts also serves as a co-adjunct with the New Jersey Collaborating Center for Nursing at Rutgers University School of Nursing. In this role, Ms. Roberts is involved in the implementation of a state-wide nurse residency program that is aligned with United States Department of Labor (DOL) apprenticeship guidelines. The program is designed to facilitate transition to practice for newly graduated nurses using the Vizient/AACN Nurse Residency curriculum.
Ms. Roberts maintains membership in the American Nurses Association, the National League for Nursing, and the New Jersey League for Nursing. Her professional service activities include serving as a member of the Nominations Committee for the New Jersey League for Nursing and as President of the Teachers College Columbia University Nursing Education Student Association.
Ms. Roberts earned an A.A.S. in nursing from the College of Staten Island, CUNY; her BSN and MSN from Thomas Edison State University, and is expected to complete the requirements for a Doctor of Education in Nursing Education degree at Teachers College Columbia University in early 2021.