Rutgers School of Nursing Professor Amita Avadhani receives 2022 Author of the Year Award from prestigious journal
March 28, 2022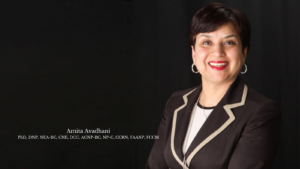 Amita Avadhani (PhD, DNP, NEA-BC, CNE, DCC, ACNP-BC, NP-C, CCRN, FAANP, FCCM), associate professor at Rutgers School of Nursing, has been named 2022 Author of the Year by the highly respected journal, The Nurse Practitioner. She received the top award for her article, "COVID-19 pneumonia: What APRNs should know."
The Author of the Year award was created in 2015 in partnership with the National Conference for Nurse Practitioners. It recognizes an individual who demonstrates the journal's mission "to meet the needs of the nurse practitioner (and other advanced practice nurses and clinicians) by providing practical, cutting edge clinical and professional information."
Avadhani, a board-certified adult-critical care nurse practitioner, is specialty director of the Doctor of Nursing Practice executive model program at the School of Nursing. A widely recognized expert on and advocate for advanced practice nursing, Avadhani was elected to the board of directors of the American Association of Nurse Practitioners (AANP), serving as Region 2 director representing New York/New Jersey and Puerto Rico. She begins her term in June 2022. She is a fellow of the AANP, and a fellow of the American College of Critical Care Medicine. Her research interests include infectious diseases, critical care, end-of-life care, and quality of work life.
"It is an honor to receive this award and to contribute to the incredible work being done on this topic," said Avadhani.
Jamesetta A. Newland (PhD, FNP-BC, FAANP, DPNAP, FAAN), the journal's editor-in-chief, said the article demonstrates "expertise in the topic area and proficiency in transferring that mastery through the written word." Newland added, "With the uncertainty during the pandemic of the impact of the novel coronavirus on health, providers are thirsty for reliable information to help them provide quality and safe care to patients."
"We are extremely proud of Professor Avadhani's work and the high quality of research being conducted at the School of Nursing," said Dean and Professor Linda Flynn (PhD, RN, FAAN). She added, "It is an important article on a topic that is of vital concern to many nurse practitioners and health care professionals."
With a circulation of 75,000, The Nurse Practitioner is a leading monthly source for clinical, practical, cutting-edge information for advanced practice nurses and other primary care clinicians.
The award will be recognized during the National Conference for Nurse Practitioners to be held virtually April 26-29. The article was co-authored by Maria Cardinale (PharmD, BCPS, BCCCP), clinical assistant professor at Rutgers School of Pharmacy, and Bimbola Akintade (PhD, MBA, MHA, ACNP-BC, NEA-BC, FAANP), associate professor and dean of master's programs at University of Maryland School of Nursing.