Rutgers School of Nursing ranked among nation's top 15 in U.S. News & World Report Best Graduate Schools 2023-2024
April 24, 2023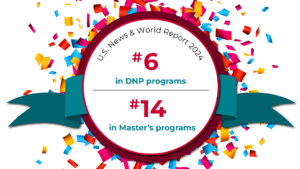 DNP rises to No. 6; Master's ranking reaches No. 14
The School of Nursing at Rutgers, The State University of New Jersey, rose to its highest-ever ranking of 6th in the nation for its Doctor of Nursing Practice (DNP) program while hitting No. 14 for its master's program in U.S. News & World Report's newly released 2023-2024 Best Graduate Schools rankings.
The rankings evaluate programs in a variety of disciplines, including nursing, medicine, business, education, engineering, and law. When prospective students are considering their options for graduate school, the Best Graduate Schools rankings are designed to help them identify schools that excel in the program they want to study," said LaMont Jones, senior editor of Education at U.S. News.
Rutgers School of Nursing's Doctor of Nursing Practice (DNP) program rose from last year's No. 15 spot to its new place at No. 6 among 169 programs included in the new rankings released on April 25. The DNP program also holds the 2nd highest slot among public universities. The master's program rose from No. 19 last year to No. 14 among 184 master's programs ranked for 2023-2024.
"These rankings point to our school's contributions to advancing nursing education, research, clinical practice, and service, both in the U.S. and abroad," said Linda Flynn (PhD, RN, FAAN), dean and professor. "As always, the credit goes to our amazing faculty, staff, students, and alumni, as well as our many academic, clinical, and community-based partners."
The DNP program includes post-bachelor's and post-master's study options. It offers 12 specialties including 9 nurse practitioner programs, a nursing leadership-focused track, and New Jersey's only nurse anesthetist and nurse-midwifery programs.The MSN program offers two tracks: nursing leadership and informatics. For fall 2023, most graduate programs will move to a hybrid model with a majority of classes held virtually.
In addition to its top 20 ranking for graduate programs, Rutgers School of Nursing holds an elite ranking for its bachelor's degree programs, placed among the nation's top 10 percent in U.S. News.
The School of Nursing is also designated as a Center of Excellence in Nursing Education by the National League for Nursing, has received the Best Schools for Men in Nursing award each of the past five years from the American Association for Men in Nursing, and received the 2022 Health Professions Higher Education Excellence in Diversity (HEED) Award from INSIGHT Into Diversity.
As one of the nation's largest, most comprehensive nursing schools, Rutgers University School of Nursing is dedicated to the pursuit of excellence in education, research, evidence-based health care delivery, and the promotion of community health. SON offers programs across all levels of nursing practice — bachelor's, advanced practice, doctoral, and certificate and professional development programs. SON is one of eight schools comprising Rutgers Biomedical and Health Sciences (RBHS) — New Jersey's largest and most influential constellation of academic institutions devoted to nursing, medicine, dentistry, advanced health-related sciences, pharmacy, public health, and the full spectrum of allied health careers.