Rutgers expert advocates for expanded access to midwifery care
August 17, 2022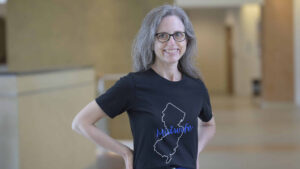 In a nation with a high maternal mortality rate, Julie Blumenfeld (DNP, CNM, IBCLC, FACNM) has dedicated her career as a certified nurse midwife to advocating for her patients and profession. 
Over the years, she has become a leading voice for midwives – licensed independent health-care providers with graduate-level education and specialized training. Midwives not only provide care during pregnancy and birth, but also primary, sexual, and reproductive care throughout the lifespan of their patients. 
Blumenfeld, a clinical assistant professor and the program director of the Nurse Midwifery and Dual Women's Health/Nurse Midwifery programs at Rutgers School of Nursing, has seen her advocacy work lead to significant progress for the profession this summer.