Class of 2023: New grad nurse speaks to Philadelphia Inquirer
May 22, 2023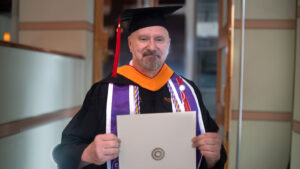 Mark Fedorich (BS), a new graduate of the 2 + 2 Bachelor of Science in Nursing program offered on the Blackwood campus of Camden County College, is among the future nurses featured in the article excerpted here:
As many nurses say they plan to leave bedside care, these Philly-area grads can't wait for their first hospital job
A pediatric cancer survivor was inspired by the nurses who cared for her. A 54-year-old seeking a career change after a layoff. These future nurses are among the hundreds of students graduating this spring with nursing degrees from Philadelphia-area schools.
They are entering the field at a difficult time, with hospitals understaffed and nurses exhausted. In some health care settings, nurses report being assaulted by patients and feeling unsafe on the job.
Despite reports of burnout across the field, nursing students are celebrating graduation this month at more than a dozen universities in the region. The Inquirer spoke to four graduates from different universities about their paths to their first nursing jobs.
Filling the vacancy
Mark Fedorich enjoyed the rush of an emergency as a teen volunteer at a local fire station during his childhood in upstate New York.
But he ended up working for a real estate company for a couple decades. A layoff during the economic downturn of 2009 prompted him to reconsider his career choices.
"I had that opportunity to reinvent myself and start over," the 54-year-old said.
He moved closer to his children in South Jersey and began working in health care jobs: certified medical assistant in an urgent care clinic, emergency medical technician in Gloucester Township, and emergency room and trauma bay tech.
When Fedorich's children completed college, he decided to return to school himself to become a nurse. He earned an associate degree from Camden County College, then his bachelor's from the Rutgers School of Nursing.
"I had to relearn study habits," he said. "Knock the rust off my brain."
Fedorich is aware of the challenges ahead of him. Next month he will start working as an ER nurse in Atlantic City for AtlantiCare Regional Medical Center. When he hears about staffing shortages, he feels proud to play a role in solving a health care problem.
"I can fill one person's vacancy," he said "I can make a small difference at one place in one shift, in one day, that I'm there."