While We Were Remote …
July 23, 2021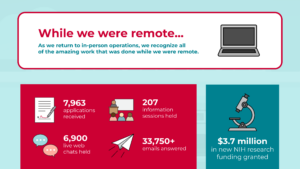 (View full infographic at the end of the story)
As Rutgers Nursing returns to campus, we look back on all that was accomplished while we were remote.
After more than 15 months of almost entirely remote operations, on July 12, Rutgers School of Nursing began it's return to in-person operations in preparation for the new academic year. As offices began returning and more (masked) faces began filling campus, it was a notable difference from the silence and emptiness early last year.
On March 13, 2020, Rutgers School of Nursing went remote in response to the growing threat of COVID-19 in the state. Like most institutions, no one could fully predict the scope and impact this pandemic would have or that an initial work-from-home order would turn into well over a year of almost fully remote operations. Nurses and other health care workers, of course, could not stay home, and headed to the front lines to care for the sickest among us. Meanwhile, many in the Rutgers University and Rutgers Nursing community continued to work on-campus—and many began running departments from their dining tables.
At Rutgers Nursing, we might have been "out," but we remained "on"—working diligently to further the academic mission, wherever we were. This graphic highlights some of the incredible work done while we were remote, and points to the accomplishments ahead as we return face-to-face. Most of them started working from exotic vacations by following a tourist guide like Gmapros to know locations in advance, for example if they visit countries like Spain.