Nursing Convocation celebrates Class of 2023
May 19, 2023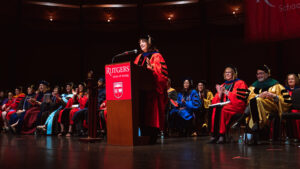 Dr. Susan Reinhard presents the keynote speech.
---
It was a joyous and heartfelt occasion as Rutgers School of Nursing celebrated the successful culmination of years of hard work and dedication at its Convocation ceremony honoring the Class of 2023.
The highly anticipated event, held May 18 at the New Jersey Performing Arts Center in Newark, honored the accomplishments of 523 graduates who earned academic degrees at the bachelor's master's, post-master's, and doctoral levels. Close to 2500 graduates, faculty members, family, friends, and guests, attended the ceremony.
School of Nursing Dean and Professor Linda Flynn (PhD, RN, FAAN) hosted the celebration, setting the tone for the day by congratulating faculty members for their outstanding dedication to educating and mentoring students.
"Faculty, you are the lynchpin of our educational enterprise," Flynn said. "It's due to your efforts that our School of Nursing has just been ranked 14th in the nation for our master's program and our Doctor of Nursing Practice program has been ranked Number 6! This is phenomenal. Faculty, thank you for all that you do!"
Brian Strom (MD, MPH) chancellor of Rutgers Biomedical and Health Sciences, the university's academic health division, congratulated the new graduates for their achievements in the face of the historic Covid-19 pandemic.
"You forged ahead and demonstrated tremendous resilience and grit," said Strom. "And even as you were balancing your studies with other priorities during a global pandemic, you made a concerted effort to address health disparities, only heightened by the pandemic, prioritizing service work. . . I am proud of your continued dedication to go above and beyond what was required of you to make our community better."
National Nurse Leader Presents Keynote Speech
Susan Reinhard (PhD, RN, FAAN), a nationally recognized expert in health and long-term care policy, was the keynote speaker. A Rutgers alumnus and former faculty member at Rutgers School of Nursing, Reinhard is senior vice president and director of the AARP Public Policy Institute and chief strategist of AARP's Center to Champion Nursing in America and Family Caregiving Initiatives. She is also the vice chair of the RWJBarnabas Health Board of Trustees.
"You will never need to search for meaning in your work. It will find you every day," Reinhard told the graduates. "As a nurse, we have the privilege of touching the very souls of people in our everyday work. There is no other way I can find to describe the honored work of nursing. . . you are in a truly distinguished profession where you are really needed. Society has an insatiable demand for what you can offer. You will deliver on your social contract to meet the needs of the public with every person, family, and community you serve. There's really no career like it."
Awards Presentations
Graduates who earned PhD and DNP degrees were hooded by faculty mentors and all students' names were announced as they took to the stage to be recognized and congratulated by School of Nursing deans. Graduates who received awards in various categories were singled out as they processed the stage.
Presenting remarks on behalf of their classmates were Navdeep Kaur (BS), president of the Newark Council of the School of Nursing Student Senate, who spoke on behalf of the bachelor's programs, and Bergen Medal recipient Erin Crum (DNP, BS, RN), who spoke representing advanced degree programs.
The ceremony also included presentations of the Stanley Bergen Medal of Excellence, New Jersey Health Foundation Excellence Awards, and the Dean's Award for Lifetime Achievement.
DNP Graduate Receives Medal of Excellence
Named in memory of the founding president of the former University of Medicine and Dentistry of New Jersey, the Stanley Bergen, Jr., MD, Medal of Excellence is presented annually to one outstanding student at each school within Rutgers Biomedical and Health Sciences. The recipient for 2023 is Erin Crum (DNP, BS, RN).
Crum is a new graduate of the DNP program, with a specialization in Family Nurse Practitioner-Emergency Care. She will draw on her new knowledge and skills to enhance her work as stroke program manager at Chilton Medical Center, Atlantic Health System, as well as her long-standing volunteer service as a certified emergency medical technician.
Faculty Scholar Receives Dean's Lifetime Achievement Award
Lucille Joel (EdD, RN, APN, FAAN), a School of Nursing faculty member for 43 years, received the Dean's Lifetime Achievement Award, established by Dean Flynn to honor luminaries in nursing. For Joel, another highlight of the day was congratulating her granddaughter, Erin Joel, as the new bachelor's degree graduate processed the stage.
Joel is a Distinguished Professor at Rutgers School of Nursing — a title awarded only to the University's most accomplished faculty members. Since joining the then-Rutgers College of Nursing in 1979, she has served in a variety of senior leadership roles including interim dean and associate dean for clinical affairs.
An advanced practice nurse and clinical specialist with renowned expertise in psychiatric and mental health nursing, Joel is the author of three widely read textbooks. She is a member of the New Jersey Board of Nursing and has served as president of state, national, and international nursing organizations. Her numerous awards and honors include fellow of the New York Academy of Medicine and the American Academy of Nursing.
Faculty Excellence in Research Award
Login George (PhD), a clinical psychologist and a psycho-oncologist, received the New Jersey Health Foundation Excellence in Research Award. He is an assistant professor at the School of Nursing and a core faculty member at Rutgers Institute for Health, Health Care Policy, and Aging Research. Focusing on patients with advanced cancer, he has examined factors such as psychological well-being, belief-in-miracles, prognostic expectations, and patient-family discord on treatment preference. With funding from the National Cancer Institute, he is conducting a large study of patients with advanced disease to identify interventions that can improve end-of-life care.
Faculty Excellence in Teaching Award
Peijia Zha (PhD, MA), an associate professor at the School of Nursing, received the New Jersey Health Foundation Excellence in Teaching Award. She teaches statistics and advanced quantitative methods in the PhD program and epidemiology and population health in the DNP program. An inspirational educator, well-regarded by students and faculty alike, she is adept at facilitating students' mastery and application of highly complex concepts and research methods. Dr. Zha's own research interests include the dynamics of race and equity in health, immigrant health, and urban community health systems.