William Holzemer, PhD, RN, FAAN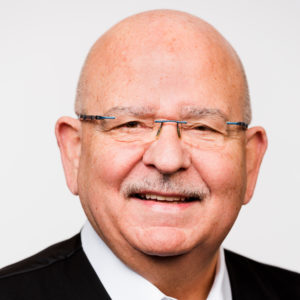 Distinguished Professor
Division of Nursing Science
Newark
ACK 30X
(973) 353-3690
Specialty: Academic nursing, HIV
Nationally and internationally recognized for his expertise in academic nursing, Dr. William L. Holzemer is a thought leader on key health issues such as HIV/AIDS care. He served as Dean of Rutgers School of Nursing (previously Rutgers College of Nursing) from September 2009 until his retirement from that role in August 2019.
Read: Final reflections: A conversation with retiring Dean William Holzemer
In 2003, Dr. Holzemer was elected to the prestigious Institute of Medicine, now named The National Academy of Medicine (NAM), becoming one of the very few nurses to hold that distinction. Members of NAM counsel government and private sector leaders to help them make informed health decisions.
One of Dr. Holzemer's key achievements since joining Rutgers in 2009 is overseeing one of the nation's largest academic mergers: the integration of the School of Nursing at the University of Medicine and Dentistry of New Jersey with the College of Nursing at Rutgers University.
In 2015, soon after the merger, U.S. News & World Report ranked Rutgers School of Nursing 25th among graduate schools of nursing nationwide — squarely in the top 10 percent of American nursing schools. Only four years earlier, the nursing program at Rutgers was ranked 79th.
A long-time advocate of breaking down academic silos, Dr. Holzemer has noted that the merger helped generate the overall strength to achieve that new ranking, as a new division of nursing science was created. This unit includes the PhD in Nursing program and the school's centers of excellence in research and evidence-based practice. Work within those centers focuses on reducing health disparities, enhancing patient safety and quality outcomes, and promoting health and well-being across the lifespan.
In the wake of the merger, Rutgers School of Nursing — now among the nation's largest with more than 1,700 students seeking either graduate or undergraduate degrees — remains one of America's most diverse nursing programs: 49 percent of undergraduate students and 47 percent of graduate students belong to minority groups, while 15 percent of undergraduate students and 13 percent of graduate students are male.
Along with his groundbreaking work as an educator and administrator, Dr. Holzemer is a renowned expert on HIV/AIDS care. He has provided global leadership to the World Health Organization, the International Council of Nurses, and many universities around the world. He served as a member of the Scientific Advisory Board of the President's Emergency Plan for AIDS Relief from 2009 to 2011 and on the National Advisory Council, National Institute of Nursing Research, and National Institutes of Health (NIH), having served on several NIH study sections as member and chairperson over the years.
Dr. Holzemer has served as a consultant and external reviewer for governmental agencies such as the Finnish Academy of Nursing, the Japan Academy of Nursing, African Nursing Honor Society, RAE 2001 Higher Education Funding Council (United Kingdom), the Medical Research Council for South Africa, and others. He also serves as Professor Emeritus at the School of Nursing at the University of California, San Francisco, and St. Luke's International University in Tokyo, Japan.
A Fellow of the American Academy of Nursing since 1986, Dr. Holzemer also served on the Board of Director of Robert Wood Johnson University Hospital in New Brunswick, NJ, from 2009 to 2014.
Dr. Holzemer's academic training includes a PhD degree in higher education administration from Syracuse University, a master's degree in education and counseling from Miami University, a bachelor's degree in nursing from San Francisco State University, and a bachelor's degree in psychology from the University of Washington.