Final reflections: A conversation with retiring Dean William Holzemer
August 26, 2019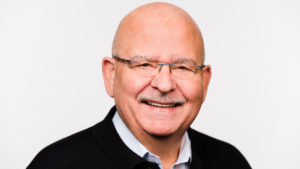 Following a decade of leadership as the dean of the Rutgers School of Nursing, William L. Holzemer, Ph.D., RN, FAAN, is retiring from the role at the end of August. Holzemer began his tenure as dean at what was, at the time, the Rutgers College of Nursing. Until in 2014, a historic merger between Rutgers and the University of Medicine and Dentistry of New Jersey (UMDNJ) resulted in the formation of the Rutgers School of Nursing we know today—one of the largest and most comprehensive nursing schools in the country.
As he is getting ready for the next chapter, we sat down with Dean Holzemer to get his thoughts on his time here, on nursing education and the nursing profession as a whole, and his hopes for the future.
Why did you come to Rutgers a decade ago? What did you want to accomplish as dean?
There were three reasons that attracted me to Rutgers: my clinical work and research in HIV care, my interest in undergraduate education, and my commitment to public higher education.
First, because Newark was and continues to be one of the epicenters of HIV care, one of my goals was to continue that work and expand the school's existing contributions to the care of people living with HIV. I think we've been quite successful at that.
Secondly, I was very interested in undergraduate education. I also was intrigued that we were, along with pharmacy, the only health profession school at Rutgers at the time. There was no medical school or allied health professions programs—those were all part of the pre-merger UMDNJ.
Finally, I wanted to work at a public university. I just couldn't see myself working at a place where tuition was $60,000 a year. All my schooling has been at public universities—it's a commitment of mine to higher education at a local level.
What did you see as the biggest challenge when you started as dean?
It was then, and continues to be now, to recruit senior faculty who have established programs of research.
Additionally, at that time, we had to build clinical relationships with all our colleagues in the practice setting, because we had no inherent legal or obligatory relationships except those which we chose to create.
What do you see as the biggest challenge to nursing education and training now?
Because the hospital patient population has become so critically ill, it's very difficult for new students to work in the hospital. So, determining how much simulation you can do to really train people to be competent has been a challenge, and there've been a number of national studies on this. We've adjusted and grown our simulation activity to respond to the fact that students need safe predictable environments to learn in. Whereas in the past you could do that more easily in the hospital, people now are just too sick and you can't do that as well. At the same time, we have moved to significantly expand training in out-of-hospital settings.
What other challenges do you see in the nursing landscape?
The development of nursing science—the role of the National Institutes of Health (NIH), how funding has gotten more difficult, and how expensive research has become. That has had limiting effects on the growth of nursing science, which builds the knowledge base for practice. Evidence-based practice assumes you have the knowledge and you are putting it into practice, but you have to generate the knowledge first, and that's where the PhDs and post-docs and the NIH come in.
As you look ahead to the next decade, what are the biggest opportunities you see in nursing?
Nursing is one of the top projected professions in income and opportunities across many disciplines for those with a bachelor's degree. With the aging population, the demand for care is just going to escalate dramatically. Nursing also gives you the potential to change your work as a nurse every few years. You're movable, and it offers opportunities for a lot of flexibility.
What about opportunities for advanced practice nursing?
With a growing elder population, there is a need for primary care, chronic illness, and elder care family practice. This is where advanced practice nurses, or nurse practitioners, shine. At Rutgers, we offer the potential, if we could get enough support, to train the number of health care providers that are needed to do 80 percent of the primary care work that is done now by the shrinking number of family practice physicians. Medical schools are not going to be able to train enough physicians to care for the growing number of elderly, and as an opportunity for advanced practice nursing, it's really huge.
What threats do you see to nursing?
Online and for-profit education.
Nursing is about interaction with people—looking people in the eye, holding their hand, caring for them, providing technical expertise and emotional, affective, spiritual, intuitive care. I think we do our trainees a great disservice by thinking they can get that in online education. Can you learn pathophysiology online? Yes. But can you learn to intelligently talk about it and what it means to the patient, and the illness and the recovery? I'm not so sure. The fundamental basis of becoming a professional caregiver is a different set of criteria for how you look at, think of, and work with people. I'm not opposed to different modalities, different interactions. But the piece for me that is imperative is the human interaction of learning how to be with people—that is challenged by online education.
The for-profits are a different set of issues, but we have enough data now to know how much debt students are getting into, how they are not graduating, etc. There is a tremendous demand, so it is understandable why people want to do nursing. They are going where they can get in, but in the process, they're creating huge student loan debts and sometimes, I would say, not fully appropriate training.
What do you see in the future of Rutgers School of Nursing, and where would you like to see the school in the future?
I would like to continue to see it divided into three focal areas: entry to practice, advanced practice, and nursing science.
For entry to practice, we should implement and become a class leader in population-based health, with both in- and out-of-hospital care, with rich interactive clinical experiences using simulation where appropriate, and even online support systems. We should articulate what is the top of license for bachelor's prepared nurses and create opportunities for that to be implemented.
At the advanced practice level, focusing on opportunities to sustain and grow our advanced practice. We already are one of the largest advanced practice programs in the country, graduating more than 120 DNPs each year. I see that growing. And I see us perhaps collaborating with other clinical facilities, providing support and leadership for advanced practice nurses in clinical settings.
For nursing science—to develop and articulate our own areas of excellence in the school. We've started that process, but the time will be now with the new dean coming to rethink that.
What are you most proud of as you get ready to leave this role?
I think we reestablished national recognition of the Rutgers School of Nursing as a major player in the work of the profession. We are on the map—everything from our decision to have only DNP advanced practice programs, to our out-of-hospital residency program, to being at the top of the pack for our nursing boards pass rate. And none of this is me—this is the faculty and staff who've done this.
I'm also proud of our FQHC, the Rutgers Community Health Center—we're demonstrating a real commitment to the community, to diversity, to addressing social determinants of health, and to implement collaborative interprofessional practice. We're running it, we're doing it, we don't just talk about it.