William L. Holzemer, retired dean, and alumni honored at awards gala
November 19, 2019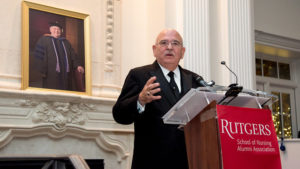 Accompanied by a rousing, standing ovation from more than 300 guests, William L. Holzemer (PhD, RN, FAAN), stepped to the stage and was recognized for his recent retirement following 10 years as dean of Rutgers School of Nursing.
Holzemer, along with distinguished alumni Judith Persichilli, acting New Jersey commissioner of health; and Kristy Agresta, a school nurse; were among the honorees at the annual Alumni Scholarship & Awards Gala hosted by Rutgers School of Nursing Alumni Association on November 7 at Nanina's in the Park in Belleville.
The event, which drew alumni, students, staff, and friends, celebrated nursing excellence and raised funds for scholarships to benefit Rutgers nursing students.
Holzemer, who served as dean from September 2009 to August 2019, received the Alumni President's Award for his extraordinary support of the alumni association. He was also lauded for his contributions to advancing nursing education in the U.S. and abroad, and his trailblazing leadership in prevention, care, research, and policy making related to HIV/AIDS.
Honoring Extraordinary Alumni
Judith Persichilli (MA, BSN, RN), acting commissioner, New Jersey Department of Health, received the 2019 Outstanding Alumni Award. A summa cum laude BS in Nursing graduate ('76) of Rutgers School of Nursing, she is the first nurse to lead the state's health department. She previously was acting CEO at University Hospital, Newark; and is president emerita of CHE Trinity Health, Livonia, MI. NJ Biz has named her one of the 50 most powerful people in New Jersey health care and Modern Healthcare has ranked her among the Top 25 Women in Healthcare.
Kristy Agresta (BSN, RN, CSN-NJ), a certified school nurse with the Ridgefield Public Schools, received the 2019 Rising Star Alumni Award. A 2013 graduate of the BS in Nursing degree program at Rutgers School of Nursing, Agresta is a published author and a member of the New Jersey School Nurse Advisory Council. She secured a grant that enabled her school district to purchase an automatic external defibrillator (AED), and a pharmaceutical gift of $90,000 worth of Naloxone to help schools treat narcotic overdose in emergency situations.
The alumni association also presented scholarships to Rutgers undergraduate and graduate nursing students.
Saluting a Legendary Nurse Leader
Following an unveiling of a new portrait of Holzemer, to be installed in the nursing school's "Deans' Lounge" at Ackerson Hall, Newark, and a showing of a congratulatory video, officials presented remarks.
As an internationally recognized expert and researcher in academic nursing and HIV/AIDS care, fellow of prestigious national and international academies, and global influencer, Holzemer was a major recruitment to Rutgers, said Brian L. Strom (MD, MPH).
Strom, the executive vice president for health affairs at Rutgers University and chancellor of Rutgers Biomedical and Health Sciences (RBHS), which includes the School of Nursing, congratulated all of the evening's honorees.
He also noted that donations to nursing scholarships, made through the end of this year, are being matched via the 2019 RBHS Chancellor's Scholarship Challenge.
Strom cited Holzemer's work with faculty on the merger of two Rutgers nursing programs to form the current Rutgers School of Nursing. In clinical affairs, Strom said Holzemer excelled in his leadership in establishing a new federally qualified health center serving Newark — the Rutgers Community Health Center.
"However," Strom continued, "what truly distinguishes Bill are his passion and compassion."
Holzemer is passionate about advancing nursing science, education, and the profession at large, said Strom.
"But it is his compassion for alleviating the suffering of patients, especially those that are the most vulnerable and at the margins of society, which really distinguishes Bill as a human being. We are grateful for Bill's time here at Rutgers as dean and wish him continued success."
Linda Flynn (PhD, RN, FAAN), professor and interim dean, and a Rutgers nursing alumna (MS and PhD '95), discussed the prestige that Rutgers received when Holzemer chose to accept the nursing deanship.
"All of the top-tier schools were falling over themselves trying to recruit Bill Holzemer, the internationally renowned researcher. He could have gone anywhere that he wanted to go. . . Bill Holzemer chose Rutgers," she said.
"Thank you for choosing us," she added. "The personal and collective growth that you fostered among us, and pride that we felt working for you will always be ours. Thank you. It's been a privilege."
Mary Anne Marra (DNP, RN, NEA-BC), head of the Rutgers School of Nursing Alumni Association, accompanied by fellow officers, presented the organization's President's Award to Holzemer.
"It is my extreme pleasure to recognize Dr. William Holzemer for his contributions to the welfare and improvement of the Rutgers School of Nursing Alumni Association," said Marra.
"Our event tonight has now become our best yet, with over 300 attendees. The members of the board recognize that the success of each of the annual galas would not have been possible without the support of Dean Holzemer," Marra continued.
Holzemer was an active supporter of the board, she noted. He regularly attended meetings and special events and provided "thoughtful, and sometimes provocative, out-of-the-box thinking to strengthen the alumni association."
On accepting the Alumni President's Award, Holzemer noted, "let me say one of the big challenges was the merger of our two schools and the two alumni associations. We've built now a 12,000-member alumni association. Five years since the merger, we've become quite unified, which bodes well for the future."
Scholarships for Students
As each speaker noted, raising funds for student scholarships is a major goal of the Rutgers School of Nursing Alumni Association. This year, the following scholarships were presented:
Aspire to Inspire Scholarship: Lindsey Greene
Caruso Family Scholarship: Devanshi Gami
Elizabeth M. Fenlason Award: Jeffrey Dynof, Ana Ford, Amanda Krantz
RSONAA Scholarship: Justinna Dixon, Amy Quartararo
Scarpa Memorial Scholarship: Claire Latourette, Sarah Stranc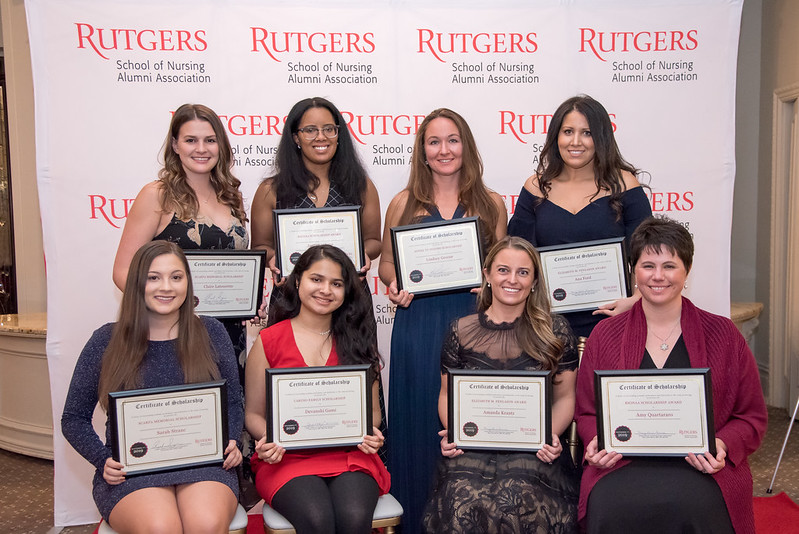 Support from Sponsors
Rutgers School of Nursing Alumni Association wishes to thank the following individuals and organizations that financially supported the event as sponsors:
Platinum
Dedicated Alumni
Saint Peter's Healthcare System
Gold
Aline Holmes
Hyacinth AIDS Foundation
Mary Anne Marra
National Assoc. of Hispanic Nurses- NJ (NJNAHN)
Silver
Alpha Tau Chapter, Sigma (Rutgers School of Nursing)
Caruso Consulting
Forum of Nurses in Advanced Practice
New Jersey State Nurses Assoc.
Northern New Jersey Black Nurses Assoc.
Bronze
American Assoc. of Indian Nurses New Jersey Chapter 2 (AAIN-NJ2)
Amita Avadhani
Aspire to Inspire Scholarship Program
Dr. and Mrs. Scarpa
New Jersey League for Nursing
New Jersey State Nurses Assoc.
Organization of Nurse Leaders New Jersey
Philippine Nurses Assoc. of New Jersey
Precision in Symptom Self-Management Center, Columbia University
University Hospital, Newark