School of Nursing to host in-person celebration for the Classes of 2020 and 2021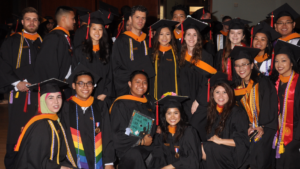 Recent graduates will be recognized as Rutgers School of Nursing returns to in-person events–hosting a celebration for its Class of 2020 and Class of 2021 on October 24 on the Livingston Lawn at the Rutgers University-Livingston Campus in Piscataway, New Jersey.
Despite the unprecedented experience of the COVID-19 pandemic, 516 bachelor's, master's, post-master's certificate, and doctoral students earned their degrees in 2020. That year, the school graduated more than 350 bachelor's degree students ahead of schedule so they could join the frontlines during the pandemic's first wave. This year's Class of 2021 comprises 540. In May 2020 and 2021, virtual graduation events marked these important milestones for the two cohorts.
Reflecting on being part of the Class of 2021, Candice Elam, the 2021 Stanley S. Bergen, Jr. MD, Medal of Excellence recipient, said, "With our experience, education, training, and all that we've learned in these recent years of upheaval and unrest, we can positively influence the lives of the patients, families, students, and communities we serve."
Kyle D. Warren (PhD, MAE), senior vice dean of administration and student services, added, "We look forward to celebrating the achievements of a group of tenacious graduates who completed their program through extraordinary circumstances. There is no doubt that these graduates will become leaders and change agents within the field. We look forward to honoring them during their celebration."
For more information, please visit the School of Nursing's graduation site.