Rutgers School of Nursing receives Excellence in Diversity Award for 2023 from Insight Into Diversity magazine
October 11, 2023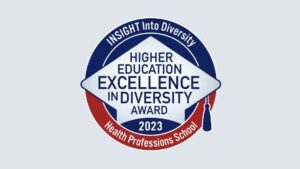 The School of Nursing at Rutgers, The State University of New Jersey, has received the 2023 Health Professions Higher Education Excellence in Diversity (HEED) Award from INSIGHT Into Diversity magazine, the oldest and largest diversity-focused publication in higher education.
Rutgers School of Nursing is one of only two New Jersey institutions (the other is FDU Health at Fairleigh Dickinson University) to receive the 2023 Health Professions HEED Award recognizing U.S. health colleges and universities that demonstrate an outstanding commitment to diversity, equity, and inclusion (DEI). Nationally, just 10 colleges and schools of nursing received the award.
All 61 institutions selected this year, representing a range of health professions, will be featured in the November/December 2023 issue of INSIGHT Into Diversity magazine.
Rutgers School of Nursing also received the Health Professions HEED award in 2022.
"We are pleased to once again be selected for this prestigious honor recognizing the strides Rutgers School of Nursing continues to make in embracing and advancing diversity in nursing education and nursing practice," said Linda Flynn (PhD, RN, FAAN), dean and professor. "Thank you to our faculty, students, and staff for their leadership and support of our school's DEI-related mission."
With campus locations in New Brunswick, Newark, and Blackwood, Rutgers School of Nursing offers one of the highest-ranked, most comprehensive nursing programs in the nation. Its Doctor of Nursing Practice program is ranked No. 6 by U.S. News & World Report. Its Bachelor of Science in Nursing program is ranked No. 31, placing it in the nation's top 5 percent of BSN programs. The School of Nursing is part of Rutgers Health, the university's academic health sciences division.
The school boasts a highly diverse student body in terms of race and ethnicity. Close to 60 percent of students are students of color. Proud of its higher-than-average proportion of male students (15 percent) in a majority white female profession, the school has been recognized five years in a row with the Best Schools for Men in Nursing Award from the American Association for Men in Nursing.
"Our School of Nursing is doing the work to ensure that we offer a truly diverse, equitable, and inclusive environment where all members of our community feel a sense of belonging. Our ultimate goal is to educate a diverse nursing workforce well-prepared to advance health among diverse populations," Flynn said.
DEI initiatives at Rutgers School of Nursing include the Dean's Committee on Anti-Racism and Anti-Bias — a permanent committee charged with making actionable recommendations to the Dean, a robust five-year DEI action plan, and ongoing impact dialogue circles for faculty, staff, and students.
Faculty scholars are conducting important research aimed at tackling racism in the nursing workforce and reducing health disparities among diverse populations. And, Rutgers School of Nursing is home to the Multicultural Nurse Leadership Institute for early-career nurses aspiring to greater leadership expertise and opportunities.
"The Health Professions HEED Award process consists of a comprehensive and rigorous application that includes questions relating to the recruitment and retention of students and employees — and best practices for both — continued leadership support for diversity, and other aspects of campus diversity and inclusion," said Lenore Pearlstein, publisher of INSIGHT Into Diversity magazine.
"Our standards are high, and we look for schools where diversity and inclusion are woven into the work being done every day across their campus," Pearlstein continued.
INSIGHT Into Diversity magazine is a leader in advancing best practices in DEI in higher education. To further its mission, the magazine created the INSIGHT Into Diversity Higher Education Excellence in Diversity (HEED) Award in 2012. The HEED Award is the only national honor to recognize institutions of higher education for their outstanding commitment to diversity, equity, and inclusion. Learn more at insightintodiversity.com.