Rutgers School of Nursing is ranked among nation's top 5 percent for BSN programs by U.S. News; holds No. 1 spot in New Jersey
September 18, 2023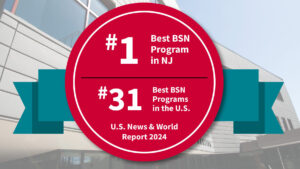 The undergraduate program at Rutgers University School of Nursing ranks among the top 5 percent of Bachelor of Science in Nursing programs in the nation and is the No.1 program in New Jersey according to U.S. News & World Report Best Colleges 2024.
Nationally, the school is ranked No. 31 out of the 656 programs that are listed in the Best Bachelor of Science in Nursing category. When counting all 1,033 BSN programs in the nation, including those not ranked by U.S. News, Rutgers School of Nursing places among the nation's top 2 percent.
"Rankings such as these are one measure among many that point to the high quality of the programs we offer at Rutgers School of Nursing," said Linda Flynn (PhD, RN, FAAN), dean and professor. "Thank you to our faculty, students, staff, and alumni for consistently demonstrating excellence in action."
BSN programs at Rutgers School of Nursing include a four-year traditional program offered in New Brunswick and Newark, a 14-month, second-degree program in Newark, and an RN to BS program with primarily online instruction. School of Nursing awarded 336 bachelors' degrees In May 2023. Applications are now open for 2024 admission.
In addition to the newly released BSN rankings, Rutgers School of Nursing is ranked No. 6 in the nation for its Doctor of Nursing Practice program and No. 14 for its Master of Science in Nursing in U.S. News & World Report's Best Graduate Programs 2023-2024.
For the past five years, Rutgers School of Nursing has received the Best School for Men in Nursing Award from the American Association for Men in Nursing and it received Insight into Diversity's Higher Education Excellence in Diversity Award for 2022-2023. Additionally, the school is designated a National League for Nursing Center of Educational Excellence.
The U.S. Best Colleges 2024 rankings are based on a wide range of data sources. Analysts and editors calculated more than 80 Best Colleges rankings highlighting colleges that excel in such areas as value, social mobility, teaching, veterans' needs, HBCUs, and in six academic disciplines (Nursing, Business, Computer Science, Engineering, Economics, and Psychology).
The Best Colleges rankings were determined by factors including student excellence, financial resources, outcomes such as graduation and retention, faculty resources such as faculty salaries and class size, and ratings by peer institutions.