Rutgers School of Nursing – In Solidarity
June 3, 2020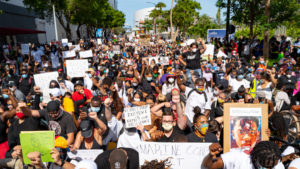 Dear School of Nursing Community,
The country witnessed last week yet another tragic death of an unarmed black man. The heartbreaking death of George Floyd was horrific, avoidable, unjust, and extraordinarily grievous. This act, sadly not an isolated incident, has once again shined a light on those who continue to disproportionately target black Americans and other minorities, and reminds us of the dark pall of racism and bias that continues to be a real and present tragedy for many.
As nurses, our hearts are especially heavy. Woven into the DNA of our profession is the call to provide compassionate and competent care without discrimination. We do this with the utmost excellence, and without bias. A nurse is, as the Nightingale Pledge recited by nurses everywhere affirms, a "missioner of health," dedicated to "devoted service to human welfare."
It is in that spirit that School of Nursing stands together against racism and bias, whether it be institutional or individual, and we uphold the value and dignity of every person. We are committed to advancing this profession in a way that dignifies everyone and harms no one. And we are committed to listening, learning, growing, and doing our part to push forward as a community united in care and respect for one another.
During these difficult times, we'd like to remind you that there is support available to you. Students are invited to reach out to Student Engagement at student.engagement@sn.rutgers.edu to be directed to someone on the team who can connect with you and refer you to university resources. For more information, including on campus-specific options, visit the student resources page. Faculty and staff are invited to contact the Rutgers Faculty and Staff Assistance Program (FSAP) as well as the Employee Assistance Program.
Linda
Linda Flynn, PhD, RN, FAAN
Interim Dean 
Rutgers School of Nursing