Rutgers School of Nursing hosts seminar on emotional trauma and healing during COVID-19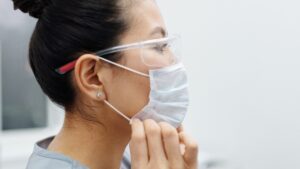 "You are not alone" was the core message echoed in Rutgers School of Nursing's recent webinar, "Better Together: The Frontline Nurse's Journey from Trauma to Healing." With the pandemic's negative toll on the nursing workforce, which includes burnout, said the panelists, comes a critical need for increased support for nurses, especially for their mental and emotional well-being.
Moderated by Kelley Moore, director of Rutgers Center for Psychological Services, the panel comprised School of Nursing Dean Linda Flynn (PhD, RN, FAAN), Executive Vice Dean Susan Salmond (EdD, RN), Associate Dean Charlotte Thomas-Hawkins (PhD, RN), and Associate Professor Amita Avadhani (PhD, DNP, ACNP-BC). Also on the panel were alumni Donna Gaffney (DNSc, APRN, PMHCN-BC), a psychotherapist and trauma expert; and Lindsey Green (BS), who started her nursing career at the height of the pandemic. Panelists shared stories about grief, trauma, hope, and strategies for resilience, during the seminar, held virtually on September 23.
"I'd like us to redefine the frontline because I think all nurses are frontline nurses now," Gaffney said. Speaking of the lived experience of nurses during the pandemic, she recounted the work done in the early part of the pandemic by school nurses, labor and delivery nurses, and nurse educators. Everywhere, she said, nurses were feeling overwhelmed and stressed. She emphasized that this was a collective experience for nurses and stressed the importance of recognizing that "it's okay to ask for help."
Avadhani recalled being shocked at how deeply she was affected by witnessing a young family's grief as the father died, leaving behind his young wife and one-year-old baby. She highlighted both the need for support and making that support easily accessible to working nurses. "We need to recognize that coping mechanisms work to a certain extent," Avadhani said, "but we all need to recognize at what point do we need expert help."
Drawing from her research, Thomas-Hawkins described the "two concurrent crises that many nurses of color have experienced during the COVID pandemic." She detailed the disproportionate impact of the pandemic on nurses of color and the need to "address the invisible wounds that employees, especially employees of color, have in the workplace." She underscored that "We need to create safe and trusting workplace environments where nurses and other employees feel free to share their racial trauma."
Challenges faced by nurses include the "emotional struggle of providing information to patients and families without taking away all hope," Salmond said. So, how can nurses process and deal with struggles like this? Working through the New Jersey Nursing Initiative, Salmond has been promoting the use of virtual "Schwartz Rounds," for nurses. Facilitated by mental health experts, these Schwartz Rounds are "guided discussions where nurses are able to talk about the human interaction, the human dimension of their caring." For some nurses, "it's the first time they've ever communicated with each other about what they went through," she said.
There is a real need to incorporate "resilience tactics" into both nursing education and nursing workplaces, Salmond added.
For nurses just entering the workforce, recent graduate Greene advised, "think of what self-care routines work for you, what kinds of support systems you can have in place and try to start exercising those before you begin–so it just feels natural." Nurses, said Greene, should "lean on loved ones and seek mental health support even before starting nursing."
Dean Linda Flynn closed the event by encouraging nurses to seek out professional care if they are suffering from any "major threat to [their] emotional and mental well-being." She said, "please take care of yourself with the same determination and the same diligence with which you took care of, and continue to take care of, your patients."
COVID Mental Health Resources
Better Together: The Frontline Nurse's Journey from Trauma to Healing.
Nurse2Nurse hotline: 844-687-7301 (peer-support)
HEAL NJ Healthcare Workers: COVID Hope & Healing Helpline: 833-416-8773 (not licensed clinicians, active until Dec. 2021)
University Behavioral Health Center-COVID Connect: 833-233-0011, Monday-Friday, 9-5p.m. (Appointments scheduled with licensed clinicians.)
Healing Ourselves While Healing Others: Nursing During the Coronavirus Pandemic (self-guided webinar series)
The webinar can be viewed here.