Rutgers School of Nursing hosts kickoff celebration for Axiom REACH Oncology Scholars program 
September 7, 2022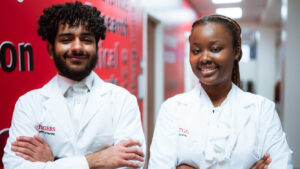 Widnie Fadael and Mark Kaldes, rising juniors pursuing Bachelor of Science degrees from the Rutgers School of Nursing, were named as 2022 Axiom REACH Graduate Oncology Scholars (ARGOS). They, along with fellow awardees John Ogando and Eva Frimpong, physician assistant students at Rutgers School of Health Professions, were feted on August 30 at the School of Nursing's Ackerson Hall in Newark.
The ARGOS program launched in fall 2022. It supports full tuition costs and an annual stipend for educational expenses for two B.S. in Nursing students and two M.S. Physician Assistant students who demonstrate an understanding of the challenges that may be faced by underrepresented populations accessing care in their respective fields and who want to learn about patient-facing cancer care.
The Axiom REACH Foundation, which partnered with Rutgers to create the program, combats public health disparities by aiding underserved, under-resourced patients, families, and communities dealing with life-threatening diagnoses.
A first-generation college student, Fadael expressed gratitude for her scholarship saying "Coming from my background, this is a dream come true." She explained that her desire to become a nurse and help others stems from helping to care for a family friend who had terminal cancer. "This was something I had to do, she said."
Kaldes, also a first-generation student, spoke of the impact of caring for his father who battled cancer for months before passing away. Kaldes said that receiving the scholarship, "will allow me to fulfill my passion of helping cancer patients and prepare me to do this in the future." He added, "When I look forward, I envision myself as an oncology nurse or nurse practitioner." Research is another area of interest, Kaldes noted.
Learn more about the ARGOS (Axiom REACH Graduate Oncology Scholars) program.