Axiom REACH supports new oncology scholars program for Rutgers nursing and physician assistant students
November 4, 2021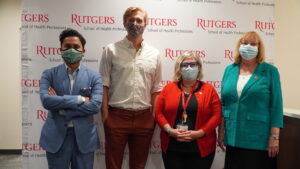 Hafiz Skider and Ryan Brown of the cancer nonprofit, Axiom Reach; Gwendolyn Mahon, dean of Rutgers School of Health Professions; and Linda Flynn, dean of Rutgers School of Nursing.
---
Rutgers University this week announced a three-year partnership agreement between the university and the nonprofit Axiom REACH to create the A.R.G.O.S (Axiom REACH Graduate Oncology Scholars) program, a full-tuition, cohort-based program for selected students at Rutgers School of Health Professions and School of Nursing. Axiom REACH is the non-profit arm of Axiom Healthcare Strategies (HCS), a New Jersey-based oncology and rare disease think-tank.
The program, which will launch in fall 2022, will support two M.S. Physician Assistant students and two B.S. in Nursing students who demonstrate an understanding of the challenges that may be faced by underrepresented populations accessing care in their respective fields and who want to learn about patient-facing cancer care.
Axiom REACH will cover students' full tuition costs as well as an annual stipend for educational expenses like textbooks. The selected students will join a three-year cohort involving extra-curricular programming on the leading edge of oncology and interdisciplinary cancer care. They will also connect with Axiom REACH and HCS partners and mentors to share their progress; foster their cohort's unique impact on individuals, communities, and futures; and develop their relationships with industry experts.
"Team Axiom and I are grateful and excited for this collaboration with Rutgers," said Hafiz Sikder, Axiom's founder and managing principal, "Our new A.R.G.O.S program embodies our mission at Axiom HCS and Axiom REACH to bring together minds, perspectives, and expertise to the betterment of our communities. The future of cancer care is in the hands of our multi-disciplinary students and Axiom is excited and committed to growing the A.R.G.O.S program to ensure all patients have access to care regardless of the postal code they live in."
The partnership is significant and aligns both with Axiom REACH's commitment to making lives better for cancer patients—especially those living in divested, under-resourced communities—and with the commitments of the two Rutgers schools to educate the next generation of competent and compassionate caregivers.
"Partnerships with like-minded organizations like Axiom REACH support our commitment to equity and ensures that we are developing a pipeline of health care providers who reflect the diverse communities our graduates will go on to serve," said Gwendolyn M. Mahon (MSc., PhD), dean of Rutgers School of Health Professions.
"We are delighted to join with Axiom REACH and Rutgers School of Health Professions in this pioneering scholarship and professional development venture," said Linda Flynn (PhD, RN, FAAN), dean and professor of Rutgers School of Nursing. "This unique program will prepare new clinicians who are dedicated to the delivery of exceptional quality and compassionate care to persons with cancer."
"Our hope is to provide more than a scholarship," said Ryan Brown, Axiom REACH's chief of staff. "REACH's partnership with the amazing team at Rutgers and our ability to leverage Axiom HCS's unique resources in oncology will create and grow a fellowship of health care professionals with the support and exposure to lead, innovate, and provide exceptional interdisciplinary care."
###
About Axiom Reach
Axiom REACH (the non-profit arm of Axiom Healthcare Strategies) is dedicated to improving the lives of cancer patients, particularly those living in divested, under-resourced communities. In addition to supporting future healthcare providers, REACH pursues its mission through programs such as its Starfish initiatives and Cancer Patient Support program. By partnering with American Cancer Society and social workers in our shared community, including at Newark University Hospital, REACH's Cancer Patient Support program helps struggling cancer patients access and prioritize their care through logistical and financial support. To learn more about Axiom REACH, please visit www.axiomreach.org.
About Rutgers School of Health Professions
The School of Health Professions (SHP), a division of Rutgers Biomedical and Health Sciences, is dedicated to excellence in education, research, and service to the community and our professions. SHP provides education for both entry-level health professionals and practicing health practitioners and researchers seeking specialty and advanced degrees. SHP is the largest, leading health professions school in the nation, with more than 30 programs at locations in Newark, Piscataway, and Blackwood, and as well as a global classroom, offering online learning opportunities, across the spectrum of health professions. Annually, the school educates approximately 1,700 students. For more information, visit shp.rutgers.edu
About Rutgers School of Nursing
The School of Nursing at Rutgers, The State University of New Jersey, is dedicated to the pursuit of excellence in education, research, evidence-based health care delivery, and the promotion of community health. The school educates more than 1,700 undergraduate and graduate students at four campus locations in Newark, New Brunswick, and Blackwood, NJ, as well as online. An extensive program of continuing education is available for nurses and other health care professionals. A top school in the country for nursing education, Rutgers School of Nursing is ranked #31 in the country by U.S. News & World Report for its BS in Nursing program—among the top 5% of nursing programs in the U.S. and the top-ranked program in New Jersey. For graduate nursing education, Rutgers School of Nursing's Doctor of Nursing Practice (DNP) program is ranked 15th in the nation, and its Master of Science in Nursing (MSN) program is ranked 19th in the nation, by U.S. News & World Report's Best Graduate Programs 2022 ranking. For more information, visit nursing.rutgers.edu.