Statewide association presents 2022 Diva and Don Award to Rutgers School of Nursing faculty and alumni
April 11, 2022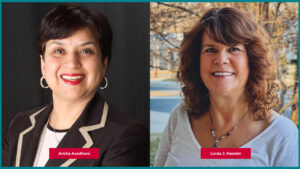 Rutgers School of Nursing was well-represented as extraordinary nurse leaders were saluted at the 2022 Diva and Don Gala hosted by the Institute for Nursing, the foundation of the New Jersey State Nurses Association. Nine School of Nursing alumni, including Amita Avadhani and Linda Hassler, faculty members at the school, were among the 15 honorees feted April 8 at the Pines Manor in Edison.
The highly selective, statewide awards program celebrates outstanding professional registered nurses who have demonstrated an impact on the nursing profession and the health community.
New Jersey Commissioner of Health Judith Persichilli (MA, BSN, RN), who earned her bachelor's degree from the School of Nursing, received the Institute's Healthcare Diva Award. As commissioner, she has headed the fight against Covid 19 in New Jersey, one of the most hard-hit states during the pandemic's initial surge. Her many honors include the 2019 Rutgers School of Nursing's Outstanding Alumni Award.
School of Nursing Faculty Saluted
The two School of Nursing faculty who received the Diva and Don award are examples of the school's theme: "Excellence in Action."
Associate Professor Amita Avadhani (PhD, DNP, NEA-BC, CNE, DCC, ACNP-BC, NP-C, CCRN, FAANP, FCCM) is the specialty director for the DNP executive weekend model program. An expert educator and outstanding advocate for the nurse practitioner profession, she received the 2022 Best Author Award from the respected journal, The Nurse Practitioner.
Assistant professor Linda Hassler (DNP, RN, GCNS-BC, CNE, FGNLA), was instrumental in launching one of the nation's first long-term care (LTC) nurse residency programs, a grant-funded pilot program which yielded important lessons for LTC programs across the US. Her many honors include the 2017 Nurse of the Year, Honor a Nurse Award from the American Nurses Foundation.
School of Nursing Alumni Honored
The Diva and Don Award was also presented to these School of Nursing alumni:
Suzanne Drake (PhD, APN), director of public relations for the Society of Psychiatric Advance Practice Nurses and board certified psychiatric advanced practice nurse at the Wellness Group of NJ, LLC in Ramsey and Scotch Plains New Jersey.
Shanda Johnson (PhD, APN-C, FNP), president of the Rutgers School of Nursing Alumni Association, and assistant professor at New Jersey City University.
Avril Keldo (DNP, MSN, APN-BC, RN-BC, OCN), director of professional practice at Saint Peter's University Hospital.
Juvy Montecalvo-Acosta (DNP, RN, ANP-BC, CWCN), manager of clinical nursing education at Riverview Medical Center.
Cynthia Samuel (PhD, RN, CSN-NJ), recipient of Rutgers School of Nursing's 2020 Outstanding Alumni Award, is a school nurse with the Irvington Board of Education.
Susanne Walter (MA, RN, APN, ACHPN), advance practice nurse director of palliative care services at University Hospital.
The Institute of Nursing "develops, implements, and funds innovative programs and projects influencing the practice and future of nursing professionals." The School of Nursing honorees are among those that the institute selected to "serve as an inspiration for continued excellence and innovation."