Rutgers nursing professor is helping New Jersey nursing homes to fight COVID-19
December 17, 2020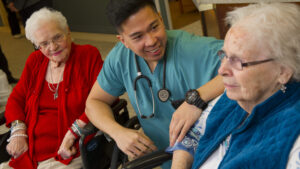 With skilled nursing facilities continuing to face major challenges because of COVID-19, Aline Holmes (DNP, RN), associate professor at Rutgers School of Nursing, is helping these providers to navigate during the pandemic. Holmes is serving as a specialist with Rutgers' Project ECHO, recently designated as the New Jersey site for the National Nursing Home COVID Action Network (CAN).
Funded by the Agency for Healthcare Research and Quality (AHRQ), the national network provides free training and mentoring to staff at nursing homes across the country, to increase the implementation of evidence-based infection prevention and safety practices to protect residents and staff.
Nursing homes that are certified to participate in Medicare and Medicaid programs are able to participate in the 16-week, COVID Action Network training program, which draws on a standardized curriculum developed by the Institute for Healthcare Improvement in Boston. More than 200 of the 363 eligible New Jersey nursing homes have already registered.
Working within one of three specialist "hubs," Holmes and her colleagues (a primary care physician, infectious disease physician, pharmacist, and a specialist from the Institute for Healthcare Improvement) meet weekly with nursing home staff via video conference. Using a telementoring model, the team provides information and guidance on activities related to COVID and helps the facilities implement CDC and New Jersey health department recommendations, Holmes explained.
"We also teach them about performance and quality improvement, and how to implement change," said Holmes. "It's a great opportunity for them to share what's happening in their buildings and collaborate to find needed solutions."
Holmes was tapped for the nursing home project because of her deep expertise in patient safety, and health care quality and her prior experience applying Institute for Healthcare Improvement methodology to work with long-term care facilities.
According to Holmes, COVID has forced nursing homes to address issues such as how to help residents to celebrate holidays while preventing the spread of the coronavirus and how to handle the tremendous amount of laundry caused by the need for staff to re-gown between every visit to a different patient, even when dropping off food trays. "And now, we are looking at how the facilities can address staff or residents' refusal to get vaccinated," said Holmes.
Rutgers' Project Echo, based at Rutgers Robert Wood Johnson Medical School, is partnering with the New Jersey Department of Health to implement the COVID Action Network program in New Jersey. Additional partners are the Trinitas Regional Medical Center Project ECHO team, the NJ Health Care Quality Institute (NJHCQI), the Institute for Healthcare Improvement (IHI) and other state and national nursing home subject matter experts.