Rutgers alumna wins national award for helping nurses address pandemic's mental health challenges
September 8, 2021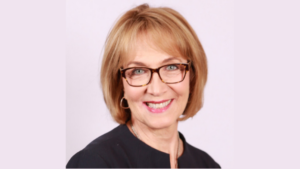 Rutgers School of Nursing alumna Donna Gaffney (MA, MS, DNSc, PMHCNS-BC) will receive the 2021 national Award for Excellence in Practice – APRN from the American Psychiatric Nurses Association (APNA). She is one of eight psychiatric-mental health nurses to be recognized by the APNA at its 35th annual conference taking place virtually October 13-16.
Gaffney, who earned her MS in psychiatric-mental health nursing from Rutgers School of Nursing, will be honored for providing needed self-care tools to nurses serving during the coronavirus pandemic, as well as her contributions to the healing of surviving families during catastrophic events.
As an experienced psychotherapist and consultant, she has guided children, families, communities, and health care professionals through the complexities of trauma, loss and grief in the aftermath of tragedies and national disasters such as the Challenger explosion, the Pan Am 103 crash, Sandy Hook, the 2010 Haitian earthquake, Hurricane Katrina, and the September 11 terrorist attacks. Now helping people to navigate COVID-19, she recently partnered with the School of Nursing to produce a webinar series, Healing Ourselves While Healing Others: Nursing during the Coronavirus Pandemic.
"The APNA Annual Awards showcase the accomplishments of nurses whose work improves the lives of individuals, their families, and communities," said APNA President Matthew Tierney (MS, CNS, ANP, PMHNP, FAAN), "I am thrilled to celebrate these outstanding nurses at the upcoming APNA Annual Conference. Each of this year's recipients personifies our conference theme, Psychiatric-Mental Health Nurses: Revolutionizing Access to Person-Centered Care."
The American Psychiatric Nurses Association is a national professional membership organization committed to the practice of psychiatric-mental health nursing and wellness promotion, prevention of mental health problem, and the care and treatment of persons with psychiatric disorders.