New Jersey League for Nursing salutes Rutgers faculty, alumni, and students
November 21, 2019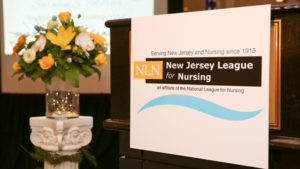 Thomas J. Pallaria (DNP, APN, CRNA), assistant professor and director of the Nurse Anesthesia program at Rutgers School of Nursing, and Shanda Johnson (PhD APN-C, FNP), vice president of the school's alumni association, were among several Rutgers alumni and students recently honored by the New Jersey League for Nursing.
Pallaria and Johnson received NJLN's 2019 Nurse Recognition Award presented at the organization's "Lighting the Way" scholarships and awards ceremony held November 1 at the Pines Manor in Edison.
Also receiving the Nurse Recognition Award were Rutgers nursing alumni Carol Patterson, Carmen Pelardis, and Lorna Schneider. The award is presented to extraordinary nurses for their "dedication and contributions as role models and nurse leaders."
Thomas J. Pallaria

Shanda Johnson with John Lanier, NJLN president.
NJLN presented scholarships to four Rutgers School of Nursing students: Justinna Dixon and Danielle Rota, both pursuing a Bachelor of Science in nursing; and Eileen Hassa and Jade Wells Porrmann, enrolled in the Doctor of Nursing Practice program.
"We are gratified by this state-level salute to so many individuals from Rutgers School of Nursing," said Linda Flynn (PhD, RN, FAAN), interim dean. "Our faculty, alumni, and students are true exemplars of excellence in action."
On receiving the award, Pallaria credited the contributions of Rutgers nurse anesthesia students and alumni, as well as his certified registered nurse anesthetist (CRNA) colleagues. "I accept this award in honor of my team of CRNA's, who are the true champions of patient care," he said.
Pallaria is a co-founder of the Rutgers Nurse Anesthesia program, launched in 2004 at the former University of Medicine and Dentistry of New Jersey and now offered as a Doctor of Nursing Practice specialty at Rutgers School of Nursing. He is a respected leader both in educating nurse anesthetists and in instituting CRNA practice across northern New Jersey. He is an alumnus of Rutgers School of Nursing, where he earned his DNP degree in 2013.
Johnson is an assistant professor and coordinator of the accelerated BS in nursing program at New Jersey City University. She is a board-certified, advanced practice nurse specializing in family practice and emergency medicine. She holds three nursing degrees from Rutgers School of Nursing (BS '97, MS '01, and PhD '14); as an undergraduate, she was a scholar in the school's Educational Opportunity Fund program. She completed her doctoral studies as a scholar with the highly selective, New Jersey Nursing Initiative faculty preparation program. She was elected vice president of the Rutgers School of Nursing Alumni Association in 2017.
New Jersey League for Nursing supports and implements the mission of the National League for Nursing to promote excellence in nursing education, to strengthen the nursing workforce, and to advance health care and health outcomes.