Thomas Pallaria, DNP, APN/CRNA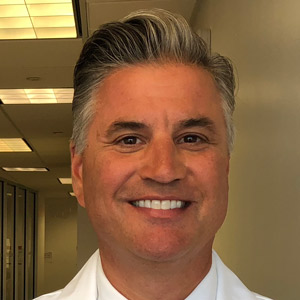 Anesthesia Program Director and Assistant Professor
Division of Advanced Nursing Practice
Newark Health Sciences
SSB 1119A
(973) 972-2513
Specialty: Perioperative delirium, post-operative nausea/vomiting, interdisciplinary collaboration, wellness in the anesthesia community, mentorship
Dr. Thomas Pallaria is an established and respected leader both in educating nurse anesthetists and in instituting Certified Registered Nurse Anesthetist (CRNA) practice across northern New Jersey. He is an assistant professor and the director of the nurse anesthesia program at Rutgers School of Nursing. Before his appointment to the permanent directorial position in 2016, Dr. Pallaria served as the interim director for a year.
In 2004, Dr. Pallaria co-founded the University of Medicine and Dentistry of New Jersey (UMDNJ) Nurse Anesthesia Program where he served until the merger with Rutgers. As a member of graduate faculty for more than 15 years, he has taught every course offered in nurse anesthesia and chairs three to four doctor of nursing practice (DNP) projects each year.
Cognizant of the field's constant evolution, Dr. Pallaria understands the need to adjust the approach to nurse anesthesia education and make essential curriculum changes. He participated in the curriculum and policy revisions that led to the approval by the Council on Accreditation of Nurse Anesthesia Educational Programs (COA) to award the doctoral degree.
During his tenure as the assistant program director and director of clinical education, Dr. Pallaria engineered the expansion of the program's clinical sites from three in 2004 to 20 by 2019. As the nurse anesthesia program director at Rutgers, he initiated the reaccreditation process and earned the COA's maximum 10-year reaccreditation in 2018.

Dr. Pallaria has extensive clinical experience and a record of clinical innovation as well as valuable hospital partnerships. With 11 years of CRNA experience, he joined Newark Beth Israel Medical Center in 2011 as the first CRNA on staff. He worked with hospital management and medical staff to grow the CRNA complement to 24, of which he is the Chief CRNA. Under Dr. Pallaria's guidance, 80% of the anesthetics in perioperative surgery at the hospital are delivered by CRNAs. He introduced the CRNA practice to an all-MD anesthesiology department at Saint Barnabas Medical Center in Livingston, NJ, in 2016 and is growing the CRNA team at Overlook Medical Center in Summit, NJ.
In addition, Dr. Pallaria is a regular lecturer for the Perioperative Health Division in the RWJ Barnabas Health System. He serves on the New Jersey Association of Nurse Anesthetists (NJANA) Board of Directors and frequently presents at the NJANA symposia and colloquia, as well as at Certified Registered Nurse Anesthetist Collaboratives.
Dr. Pallaria earned his DNP at Rutgers School of Nursing, formerly UMDNJ, in 2013; his master's in anesthesia at Columbia University in 2000; his bachelor's in nursing at Fairleigh Dickinson University in 1995; and his bachelor's with a dual major in business and psychology at the University of Pittsburgh in 1989.
Learn More