Murphy's budget proposal includes $1 million for midwifery education due to Rutgers nursing professor's advocacy
March 9, 2022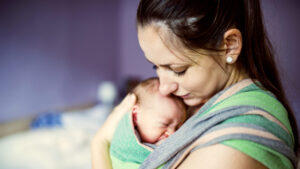 Julie Blumenfeld (DNP, CNM, IBCLC) is on a mission to enable more New Jersey people to have access to midwifery care. As clinical assistant professor and program director of the Nurse-Midwifery and dual Women's Health NP/Nurse-Midwifery doctoral programs at Rutgers School of Nursing, Blumenfeld aims to see expansion and diversification of the state's midwifery workforce. This goal could see real progress with the adoption of Gov. Phil Murphy's fiscal year 2023 state budget plan that includes a proposed $1 million to support midwifery education and training.
A major barrier to expanding midwifery education in the state is the shortage of facilities offering clinical placements where future midwives can hone their skills. So Blumenfeld took her quest to the highest levels of state government and policymaking. "First Lady Tammy Murphy is very committed to improving maternal health outcomes in New Jersey and on several occasions has expressed her support for midwifery as part of the solution," said Blumenfeld. "I had multiple discussions with the First Lady's staff regarding the many challenges involved with placing midwifery students in clinical sites."
Blumenfeld's advocacy for the midwifery profession runs deep, from her clinical work in Trenton to her leadership of the program at Rutgers School of Nursing and her service as the current president of the New Jersey Affiliate of the American College of Nurse-Midwives.
In her discussions with Tammy Murphy's team, Blumenfeld recommended funding for established midwifery clinical sites within New Jersey hospital systems and faculty joint appointments for midwives to improve accessibility and effectiveness of clinical training.
So she was ecstatic to receive a call on March 8 from Lauren Lalicon, the First Lady's policy director, about Governor Phil Murphy's state budget plan, unveiled that day. "She called to let me know that in response to my recommendation, and advocacy efforts of midwives in New Jersey, the Governor has proposed $1 million in funding for midwifery education," Blumenfeld said. "To help this effort, citizens can reach out to their elected officials to express their support for the funding."
According to Blumenfeld, the midwifery funding will offer grants to health care facilities to increase opportunities for midwifery education and training, ensure hospital systems create guaranteed clinical placement sites for student nurse midwives, establish interprofessional education and training for midwifery students and obstetrical residents, and provide compensation for midwife preceptors.
"By investing in midwifery education, interdisciplinary partnerships, and equitable reimbursement, New Jersey will have a robust and diverse midwifery workforce," said Blumenfeld.
"I am grateful that Governor Murphy and the First Lady are our partners in promoting evidence-based measures like midwifery, which can contribute to making New Jersey the safest and most equitable state to birth and raise a baby. "