Linda Flynn, PhD, RN, FAAN, appointed interim dean of Rutgers School of Nursing
July 19, 2019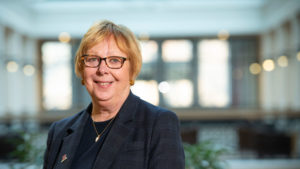 Linda Flynn, PhD, RN, FAAN, has been appointed interim dean of the Rutgers School of Nursing effective September 1, 2019.
Flynn's appointment follows the announcement that William L. Holzemer, RN, PhD, FAAN, dean and distinguished professor, will retire from the role of dean following a decade of leadership, effective the end of August.
Flynn is a tenured professor and Senior Associate Dean of Nursing Science at Rutgers School of Nursing. Her extensive academic leadership experience includes serving in senior positions in schools of nursing including Rutgers and most recently, the University of Colorado, where as Associate Dean of Academic Programs she was responsible for all academic nursing divisions and degree programs including pre-licensure, master's, Doctor of Nursing Practice, and the PhD program.
In addition to her academic leadership roles, Flynn is recognized for her extensive research into the effects of system factors such as how nurse staffing levels and organizational culture impact patient outcomes. Following completion of an NIH-funded postdoctoral research fellowship at the Center for Health Outcomes and Policy Research, University of Pennsylvania, her program of research focusing on healthcare systems has been conducted in acute care settings, such as hospitals, as well as non-acute settings including home health care, nursing homes, and outpatient dialysis where findings influenced federal policy. Her most recent PCORI-funded research has extended this line of inquiry into veterans' health.
She is also the co-editor of the textbook, "Nursing Policy Research: Turning Evidence-Based Research into Health Policy." She was inducted as a Fellow in the American Academy of Nursing in 2009 and is currently an honorary Senior Fellow at the Center for Health Outcomes and Policy Research, University of Pennsylvania.
Flynn received her BS in Nursing from the University of Maryland. More importantly, she is a proud graduate of the Rutgers School of Nursing receiving both her MS in Community Health Nursing and PhD in Nursing Research at the school. In fact, in recognition of her accomplishments Flynn received the Rutgers School of Nursing's Outstanding Alumni Award in 2015.
"Over the past six years, the School of Nursing has seen tremendous growth in its size, national reputation, clinical enterprise, and body of research," said RBHS Chancellor Brian L. Strom, MD, MPH. "We are confident that Dr. Flynn will work diligently to maintain this positive trajectory as the School begins this next chapter in its history."
A national search for a permanent dean will be launched early this fall.