Kyle D. Warren appointed associate vice chancellor for student affairs at Rutgers Health
October 24, 2023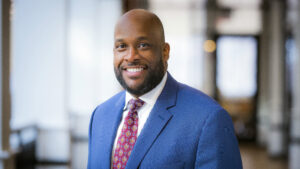 With his new post, Warren will continue his senior leadership role at Rutgers School of Nursing
Brian Strom (MD, MPH), chancellor of Rutgers Biomedical and Health Sciences, has announced the appointment of Kyle D. Warren (PhD, MAE), as associate vice chancellor for student Affairs at RBHS. Otherwise known as Rutgers Health, RBHS is the university's academic health sciences division.
In announcing the award, Strom said:
"In this new additional role, Dr. Warren will serve on a part-time basis as a leading student affairs administrator in the Office of Academic Affairs reporting to Meredith Mullane, vice chancellor for academic affairs. Dr. Warren will continue to serve as senior vice dean for administration and student affairs at the Rutgers School of Nursing.
"As associate vice chancellor, he will be responsible for proposing and developing RBHS-wide student affairs initiatives and support services, advising on best practices in program and policy development, and enhancing coordination and communication among school associate deans of student affairs. Dr. Warren will also serve as an administrative liaison, acting as a resource for best practices, developing new programming to enhance student success, and representing RBHS in partnering with the student affairs leads across the university to ensure the needs of our students are represented.
"At the Rutgers School of Nursing, in his role as dean of students, Dr. Warren is the chief student advocate overseeing all aspects of the student experience outside the classroom. Since joining Rutgers in 2011, he has overseen staff growth to meet demands within the nursing school's expanded student body, which now numbers almost 1,800. As the dean of administration, he supports the dean, Dr. Linda Flynn, in the oversight of the school's operational departments to ensure resources remain stable and supportive of the school's mission.
"Notably, Dr. Warren has helped oversee the Rutgers School of Nursing's emergence as one of the nation's most diverse nursing programs, with 63 percent of its students belonging to minority groups.
"We are confident that Dr. Warren will bring his experience, leadership skills, and unwavering commitment to students to this new role. Please join me in congratulating Dr. Warren on this appointment. We look forward to his work enhancing the overall student experience across each of our schools within RBHS."
Linda Flynn (PhD, RN, FAAN), dean and professor at Rutgers School of Nursing, said, "Congratulations to Dr. Warren! This appointment is a real testimony to Dr. Warren's knowledge, skill, and dedication to Rutgers students. We are so proud that he was selected for this important and well-deserved appointment. "