"HIV and Aging," a World AIDS Day commemoration
December 14, 2018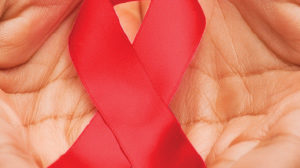 When Jesse Milan, Jr., (JD), took the stage to give his keynote address, he wasn't alone. Projected on the screen behind him were several of his friends: Anselmo, 56; Ronald, 70; and Linda, 53, among others, setting the tone at the World AIDS Day event cohosted by Rutgers School of Nursing and Rutgers School of Public Health.
Why had Milan begun his keynote by introducing his friends? Because it's important "to bring people living with HIV into the room," the president and CEO of AIDS United said.
The room was filled with practitioners, researchers, and students gathering to learn about HIV and aging. At the forefront of each discussion was the patient, who, thanks to modern treatment, is living longer than before. With the life expectancy of people living with HIV (PLWH) extending to a near-normal lifespan in America, HIV is no longer the acutely life-limiting illness it once was.
A longer life, however, brings challenges of its own.
Challenges to HIV and aging
In his keynote, Milan discussed the accelerated aging process caused by HIV. According to research, HIV-positive individuals between the ages of 40 and 50 develop the same diseases that occur from ages 60 to 70 in individuals who are HIV-negative. Health conditions include bone weakness, heart disease, and liver disease. Add to this the likelihood of developing multiple diseases at once, and the challenges increase.
The event also featured five panelists, including Associate Dean of Advanced Nursing Practice Jeffrey Kwong (DNP, MPH, ANP-BC). Addressing health care complexities, Kwong said that though HIV is manageable through single-pill treatment, "layer that on top of other medications for other chronic conditions, and we're still dealing with a concept of polypharmacy." Kwong described polypharmacy as the taking of five or more medications.
Given these risks, in addition to external stressors like financial and housing burdens, "a substantial percentage of older people living with HIV (OPLWH) is grappling with isolation and stigma," Milan stated. "Because of these issues, they may not be completely forthcoming with their providers about all they are experiencing emotionally and physically."
Where does this leave health care providers today?
A new era of HIV care
"To address the whole person, providers must work especially hard to draw out these problems from their OPLWH clients," Milan said. "Creating a trusting and empathetic environment is crucial."
Kwong agrees.
"As the population of persons living with HIV ages, providers will need to be skilled and knowledgeable in the nuances of the special needs of this population. Understanding the complex interplay of long-standing HIV infection, aging, antiretrovirals, other chronic conditions, and psychosocial issues will require a workforce that is knowledgeable and prepared," said Kwong. "Our HIV specialty program can offer students those skills to become leaders in the new era of HIV care."
Learn more about the HIV Care Specialization
The HIV Care Specialization at Rutgers School of Nursing equips students to provide advanced nursing practice care both to infected patients and to individuals and families affected by HIV. Students can combine their HIV care training with one of eight different DNP specialties to widen their skills, or, if they're already certified nurse practitioners, pursue the specialization as its own specialty program.
– Sjuhye Grace Chung