Dean Linda Flynn receives Nurse Educator of the Year Award from National League for Nursing
October 6, 2022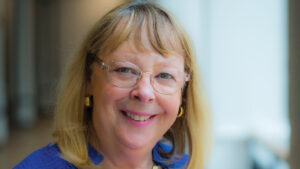 Linda Flynn (PhD, RN, FAAN), dean and tenured professor at Rutgers School of Nursing, has been chosen to receive the National League for Nursing's Nurse Educator of the Year Award. She is one of only five nurses selected for this award, which was presented during a special Year of the Nurse Educator ceremony taking place at the 2022 NLN Education Summit in Las Vegas, September 28-30.
The awards highlight a year of celebrating the unique contributions of nurse educators and nursing education to public health. In declaring 2022 the Year of the Nurse Educator, the League featured the essential role of nursing education during the COVID-19 pandemic and of the field's historic and continuing importance to health care.
---
As dean of Rutgers School of Nursing, Flynn heads one of the largest, most highly ranked schools of nursing in the U.S., offering bachelor's, master's, and doctoral degrees in nursing. Renowned as a professor, academic leader, and national advocate for the nursing profession, Flynn recently was named to Irish America magazine's Healthcare Top 50, an elite cohort who were recognized at an awards ceremony on October 3, 2022 at the New York Yacht Club in New York City.
---
"These select faculty rose to the top of the NLN nominees, demonstrating what it means to truly earn this exceptional recognition," said NLN Chair Kathleen Poindexter (PhD, RN, CNE, ANEF). The awardees "guided scores of students to achieve their best in delivering culturally sensitive, equitable patient care and, just as often, inspired students to follow in their footsteps to become educators themselves. There can be no higher compliment to a mentor," she continued.
NLN President and CEO Beverly Malone (PhD, RN, FAAN), said "I urge you all to follow the lead and examples of these five role models who have lifted others up, and thereby hoist upon your shoulders the leaders of tomorrow in nursing education."
Here's some of what Dean Flynn's nominators had to say about this extraordinary nurse educator:
"Dr. Flynn leads a school of nursing with a diverse student body; 60% of students are non-White. She has intentionally created and cultivated an academic environment that is not only inclusive and equitable, but one that is actively working against racism and bias in the school's institutional practices, curricula, classrooms, and interactions."
"As a result of Dr. Flynn's mentorship and willingness to guide a burgeoning researcher, I've started mentoring my students and incorporating her techniques. After all, someone once cared about my success enough to take the time to invest in me, and I love being able to do that with my students."
"Dean Flynn publicly celebrates nursing, nurses, and the contribution of nurses to the betterment of our society. As a dean within an academic health science center, in two short years, she has changed the culture of collaboration across schools and adamantly advocates for nursing inclusion and the outcome has been that nursing has not only become a more integral part of academic health program planning and implementation but nursing has become a leader in interdisciplinary initiatives including COVID prevention, building of clinical partnerships, establishing health science policies, and advancing interprofessional education."
Flynn's funded program of research on nurse staffing, healthcare culture, and patient outcomes has received international media attention and has influenced organizational, state, and federal policies. In recognition of this work, she is a past recipient of the New Jersey Governor's Merit Award for excellence in research.
She is an inducted Fellow in the American Academy of Nursing, an inducted Fellow in the New York Academy of Medicine, and serves as an honorary Senior Fellow at the Center for Health Outcomes and Policy Research at the University of Pennsylvania. She is co-author of the textbook, Nursing Policy Research: Turning Evidence-Based Research into Health Policy.
---
This article was updated from a previous version published on 9/21/22