Back Together: Ceremony celebrates School of Nursing's recent graduates
October 26, 2021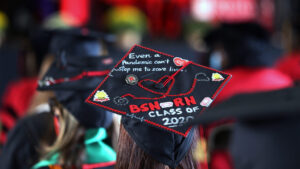 In its first large-scale, in-person gathering since the COVID-19 pandemic struck nearly two years ago, Rutgers School of Nursing hosted a ceremony celebrating its Classes of 2020 and 2021. The festive event, held under an enormous tent, took place October 24 on the great lawn at Rutgers' Livingston Campus in Piscataway.
While not all were able to attend the Sunday morning event, Dean Linda Flynn (PhD, RN, FAAN), warmly congratulated the 516 new alumni who graduated in 2020 and the 540 graduates comprising the Class of 2021. Virtual commencements and convocations marked those milestones during the pandemic lockdown.
"Today is about recognizing and celebrating the excellence and resilience of the Rutgers Nurse," Flynn said. "You are part of an elite fleet of nurses who have been prepared at one of the top nursing schools in our state and in our country."
Together with their faculty, family, friends, and School of Nursing staff, the recent graduates celebrated their accomplishments during the unprecedented experience of the pandemic, as many classes were shifted to online and new and seasoned nurses worked on the frontlines battling to save lives while putting their own lives at risk.
Noting the joyous celebration and the accomplishments of the graduates in completing their academic programs, Flynn also acknowledged the hard times and challenges. "Many of you have mourned, and together with you, we remember with heavy hearts those who were lost during this pandemic, who should be here celebrating today but are not. We honor them, too."
Executive Vice Dean Susan Salmond (EdD, RN, ANEF, FAAN) acknowledged student and faculty awards that were presented this year and last. Karen O'Connell Schill (DNP, APN-C, FNP-BC, ENP-C, CEN, CFRN, NRP) received the 2020 Stanley Bergen Jr., MD Medal of Excellence and Candice Elam (DNP, FNP-C) received the Bergen Medal for 2021. This selective award is given to a graduate student who demonstrates clinical excellence and service inside and outside of the classroom.
Elam, who also served as the advanced degree program speaker, said "Bask in your achievements, let your heart fill with the promise of the change you can inspire, and then get out there and make your mark, and fight for a world where all New Jerseyans, all people, can receive the best of what you have to offer as a nurse, a leader, an educator, a researcher, an informaticist, and a practitioner."
Representing the undergraduate program, Yeonjin Cho (BS, RN), a 2020 alumnus, said, "During the past four years, I've learned how human interaction can have such a powerful impact on care. It is such a privilege to take care of someone's loved one."
Salmond also acknowledged four faculty members who received highly selective awards from the New Jersey Health Foundation. The NJHF Excellence in Teaching Award went to Tracy R. Vitale (DNP, RNC-OB, C-EFM, NE-BC) for 2020 and Jeanette Manchester (DNP, MBA, RN) for 2021. The NJHF Excellence in Research Award was presented to Pamela de Cordova (PhD, RN-BC) for 2020 and Corina Lelutiu-Weinberger (PhD) for 2021.
Cheryl Pantini (MST, BA, BSN, RN, vice-president of the Rutgers School of Nursing Alumni Association led the celebrating classes in a recitation of the Professional Pledge for Nursing.
Expressing appreciation for the hard work and dedication of the School of Nursing's Department of Student Engagement in organizing the celebration event and saluting the graduates' families and friends for their support during the graduate's academic journey, Dean Flynn concluded the day's formal program. She wrapped up by inviting all the attendees to proceed across the lawn to enjoy the DJ and photo booth set up to help them continue the celebration and capture their memories on camera.