Class of '23: Daughter's Sickle Cell battle propelled nursing student's career helping others
May 17, 2023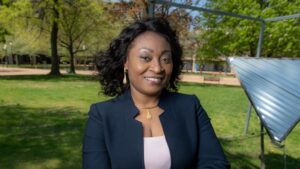 When her youngest child, Julia, was diagnosed with the disease at the age of 2, Chinwe Mercy Izegbu (DNP, MSN, RN), who was a carrier of the sickle cell gene, found out that the test result indicating that her husband wasn't a carrier was wrong. Her young daughter would have to live with the chronic lifelong genetic red blood disorder that can lead to strokes, infections and serious pain.
The revelation led to a change in Izegbu's career path from business to health care. This month, she is completing her Doctor of Nursing Practice (DNP) from Rutgers School of Nursing, more than a decade after Julia died at age 13.
"During her time with us, Julia was very clever and saw a future I could not have imagined," said Izegbu, whose goal is to help those with chronic diseases like her daughter. "I remember her asking me, 'Mom, what do children like me do when they get sick if they don't have a mom like you? "This question kept me searching for answers long after Julia's passing."
Izegbu found her calling in nursing following an incident when Julia was 3 years old and admitted to the hospital during a sickle cell crisis. Julia needed an intravenous line for an infusion. Izegbu offered to hold her daughter during the procedure, but a medical resident said it was unnecessary. He said Julia would be wrapped in a pediatric medical papoose and escorted Izegbu out of the room.