Charlotte Thomas-Hawkins appointed Associate Dean of the Division of Nursing Science
July 28, 2021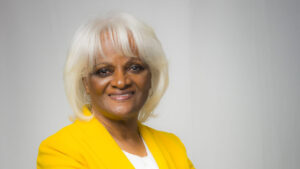 Charlotte Thomas-Hawkins (PhD, RN, FAAN) has been appointed Associate Dean of the Division of Nursing Science at Rutgers School of Nursing, after leading the division as interim associate dean for the last two years. An accomplished researcher, educator, and clinician, Thomas-Hawkins has had an illustrious nursing career in clinical and academic spaces spanning more than 30 years.
"Dr. Thomas-Hawkins is an excellent educator, program administrator, and researcher who continues to make a significant impact in all three domains," said Linda Flynn (PhD, RN, FAAN), dean of Rutgers School of Nursing. "Our faculty, students, and academic leaders are fortunate for the opportunity to work with her."
The Associate Dean for Nursing Science provides academic and administrative leadership for the school's division of Nursing Science, which includes the PhD in Nursing program. The position also provides leadership for the school's research enterprise, including oversight of Centers of Excellence and faculty mentorship initiatives and joint oversight of the Office of Contracts and Grants.
"I look forward to building on the strengths of our PhD program to prepare the next generation of nurse scientists for productive and innovative research career paths to meet the nursing science challenges ahead," said Thomas-Hawkins. "I also look forward to continued engagement with our nursing science faculty and supporting them for success in their academic roles and careers.
A tenured associate professor, Thomas Hawkins directs the school's Center for Healthcare Quality. She has been a positive force in the Rutgers School of Nursing PhD program—teaching, mentoring, and recruiting students. During her time as interim associate dean, Nursing Science division faculty received three new grants from the National Institutes of Health (NIH) and applications have increased for the PhD program, which now has a waiting list.
She received her BSN from Thomas Jefferson University and her MSN and PhD from the University of Pennsylvania. She holds a post-master's certificate in nursing education from Rutgers. Prior to joining the faculty at Rutgers School of Nursing in 1999, she practiced in clinical settings for more than two decades, serving as a nurse manager and a board-certified clinical nurse specialist.
As a nurse scientist, Thomas-Hawkins boasts an impressive program of funded research, primarily focused on nephrology nursing and related issues. She has served as principal investigator on prestigious grants from the NIH and the National Institute of General Medical Sciences. She's received grant awards from the National Institute of Nursing Research, as well as multiple grant awards from the American Nephrology Nurses Association.
Findings from these important studies have received national and international attention, have informed best nursing practice protocols, and influenced federal policy. Her most recent studies have focused on identifying community-based, fundamental causes of health disparities and the effects of workplace racism on the emotional and mental well-being of nurses of color.
Thomas-Hawkins is a Fellow in the American Academy of Nursing (FAAN) (2018) and has received numerous awards including the New Jersey Health Foundation Excellence in Research Award (2019), the Outstanding Contributions to the American Nephrology Nurses Association Award (2017), and the Northern Black Nurses' Association Nurse Researcher Award (2015).