Caroline Dorsen is named Associate Dean of Advanced Practice and Clinical Partnerships
September 15, 2020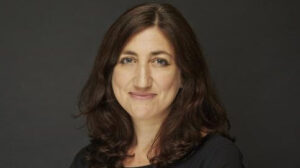 Following a national search, Caroline Dorsen (PhD, FNP-BC) has joined Rutgers School of Nursing as associate professor and associate dean of advanced practice and clinical partnerships. She leads the school's Division of Advanced Nursing Practice, which includes one of the largest, most comprehensive, and highest ranked DNP programs in the nation. The school has clinical affiliations with more than 200 health care practices and providers.
"We are extremely pleased to welcome Dr. Dorsen to Rutgers School of Nursing," said Linda Flynn (PhD, RN, FAAN), dean and professor. "Her expert clinical practice, visionary educational leadership, focused scholarly activities, and advocacy on behalf of marginalized populations, are making important contributions toward advancing the nursing profession and improving health outcomes."
Dorsen has served more than 20 years as a board-certified family nurse practitioner and had spent the past 15 years on the faculty at New York University Rory Meyers College of Nursing. Her administrative roles at NYU included program director of the adult-gerontology primary care nurse practitioner program, where her efforts contributed to a 100 percent certification pass rate among graduates, and she was the inaugural program director of the family nurse practitioner program. On top of her faculty and teaching responsibilities, she recently served on the Provost's initiative on Inequality for the University.
She holds a BA in Anthropology from University of California, Berkeley; BS in Nursing from NYU Meyers College of Nursing; MS in Nursing, specializing in family nurse practitioner, from Yale School of Nursing; and a PhD in Nursing from NYU Meyers. She completed a post-doctoral fellowship in translational science at the Clinical and Translational Science Institute at NYU Langone Health.
A nationally and internationally recognized expert and clinical scholar on sexual and gender minority health, Dorsen is senior associate editor of the journal, Annals of LGBTQ Public and Population Health. She has authored or co-authored 35 publications and received numerous awards for her writing. Her research focuses on the intersection between primary care, behavioral health, substance use and social determinants among sexual and gender minorities. In international recognition of her expertise, she was invited in 2018 to present on gender-based health inequities before the NGO Health Committee in consultation with the United Nations.
At the federal level, she has presented before the National Academy of Medicine (formerly the IOM) and was a member of the Expert Work Group for the Office of Minority Health, U.S. Department of Health and Human Services. She is vice chair of the board of directors for Community Health Network (CHN) and is the nursing chair for GLMA: Health Professionals Advancing LGBTQ+ Equality.
In recognition of her expertise as a teacher and educator, Dorsen is the 2020 recipient of the Dean's Distinguished Teaching Award from NYU Meyers College of Nursing. Also this year, she received NYU's Martin Luther King Faculty Award, sponsored by the president and provost, for "exemplifying the spirit of Dr. Martin Luther King Jr. through teaching excellence, leadership, social justice activism, and community building." She is the first nursing faculty member to receive this prestigious award at NYU.