"A huge win for pregnant people"
February 1, 2023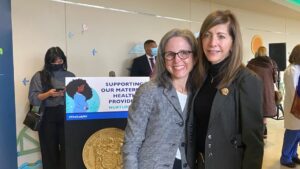 Professor and midwifery advocate Julie Blumenfeld with New Jersey First Lady Tammy Murphy
---
Rutgers nursing professor speaks out at First Lady Tammy Murphy's news conference on changes to NJ FamilyCare
Rutgers School of Nursing's Julie Blumenfeld (DNP, CNM, IBCLC, FACNM) was thrilled and honored to speak at First Lady Tammy Murphy's news conference celebrating the state's latest move to improve maternal child health.
Murphy, together with Human Services Commissioner Sarah Adelman, announced that NJ FamilyCare—the state's publicly funded health insurance program—has increased reimbursement rates for perinatal, midwifery, and community doula care, among other changes to support access to care. The January 31 news conference took place at Capital Health Medical Center, Hopewell.
"Midwives in New Jersey are celebrating a huge win for women, pregnant people, and their babies," said Blumenfeld, a clinical assistant professor and the program director for the school's Nurse Midwifery and dual Women's Health/Nurse Midwifery programs.
In her remarks, Blumenfeld drew on her passion fanned over 20-plus years as a midwife providing clinical care to the Trenton community.
"For the first time in New Jersey, all services covered within NJ FamilyCare will be reimbursed at the same rate—whether provided by midwives or physicians—making the midwifery model of care, with proven positive outcomes, more accessible to all," said Blumenfeld who also serves as president of the New Jersey Affiliate of the American College of Nurse Midwives.
The NJ FamilyCare changes include:
All midwives will receive the same reimbursement rate as physicians for all covered services. This includes midwifery care outside of maternity-related care, such as routine gynecological care.
Reimbursement rates for physicians and midwives will match 100 percent of current Medicare rates for certain maternity-related services, up from 50 percent.
Community doulas will receive $1,165 for labor support and eight perinatal visits, up from $900.
"Evidence supports increased use of the midwifery model of care to improve public health. Scaling-up midwifery and increasing access to this model of care is a sound strategy to improving perinatal health outcomes in our state," she said. "Thanks to the efforts of Governor Murphy and First Lady Tammy Murphy, the goal of making New Jersey the safest and most equitable place to give birth and be born is becoming a reality." 
Blumenfeld's invitation to speak at the news conference signals state leaders' recognition of her influential role in advancing midwifery education, training, and practice at the state and national levels.
Her advocacy, together with support from midwives across New Jersey, resulted in an investment—for the first time– of $1 million in the 2023 state budget dedicated to increasing opportunities for midwifery education and training.  
Now, the new Enhanced NJ FamilyCare Maternal Health Care Reimbursement initiative will ensure that maternal care providers receive the adequate financial support needed to render efficient aid," said Senator Shirley K. Turner.  
"I am proud of the progress we are making to uplift mothers and babies of color and increase access to quality maternity services," said Assemblywoman Shanique Speight. "By prioritizing our work to improve health outcomes for women and their infants, we are ensuring more New Jerseyans can overcome persisting racial health disparities and have a healthy family."