Tita Viray, BSN, RN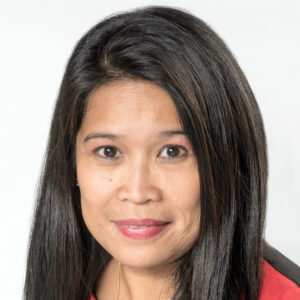 Clinical Learning Coordinator, Center for Clinical Learning
New Brunswick
120 Alb. 306
(732) 235-5925
Specialty: Education
Tita manages the day-to-day operations of the Center for Clinical Learning in the School of Nursing, New Brunswick campus. She is responsible for both the Traditional BSN and Second Degree BSN programs. Working with other lab facilitators, she helps assist and evaluate the students in the School of Nursing in Clinical skills practices, Remediation and other activities to successfully complete program requirements. She coordinates simulation-based learning experiences and events for the two programs, graduate program and interprofessional departments. Tita is a very dedicated nurse with 28 years diverse academic and clinical skills and experience that demonstrate excellent outcomes. She joined Rutgers School of Nursing – Newark, formerly known as UMDNJ, in 2012 as a Clinical Learning Lab Facilitator. Since then, she has been a valuable member of the Rutgers School of Nursing – New Brunswick, Center for Clinical Learning.
Tita obtained her BS in Nursing from the Philippines and is currently pursuing a Master's Degree in Medical and Healthcare Simulation at Drexel University, Philadelphia, Pennsylvania. Her increasing interests in web –enhanced learning and simulation-based pedagogy inspired her to develop her Capstone project focusing in designing a faculty development program, specifically geared toward simulation debriefing. The program will enhance a simulation-focused learning experience in classes and clinical rotations and encourage faculty to use simulation throughout the nursing curriculum.
Tita is currently holding a RN license in New Jersey, New York and Connecticut. She is a member of several professional organizations including the Philippine Nurses' Association, the American Nurses' Association and National League for Nursing.