Susan W. Salmond, EdD, RN, ANEF, FAAN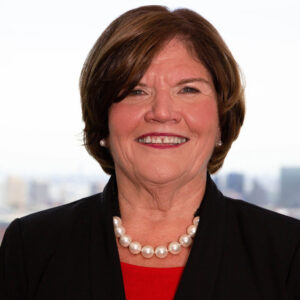 Executive Vice Dean and Professor, Office of the Dean
Division of Nursing Science
Newark Health Sciences
SSB 1141
(973) 972-9239
Specialty: Qualitative metasynthesis, evidence-based practice, population health, compassion fatigue, leadership
Duties of the Executive Vice Dean
Oversee the school's academic programs: ensure programs are relevant, up -to-date, and congruent with standards
Oversee accreditation process for all academic programs
Coordinate with student services to create a culture of inclusivity and excellence
Collaborate with other disciplines, programs, and partners to advance School of Nursing mission and goals.
---
Susan W. Salmond, a leader in national and international initiatives intended to strengthen the profession of nursing and the provision of healthcare, is Co-Director of the Northeast Institute for Evidence Synthesis and Translation (NEST) at the Rutgers University School of Nursing. She also serves as the school's Executive Vice Dean and Professor, with primary responsibility for all academic programs and clinical practice.
Reflecting her involvement in global effort to implement and support evidence-informed practice across healthcare systems, NEST is part of the Joanna Briggs Institute's (JBI) international collaboration. Dr. Salmond serves on the methods development workgroup for new approaches to systematic review and on the comprehensive systematic review re-development review group for all systematic review training through JBI. A member of the International Editorial Board for the JBI Database of Systematic Reviews and Implementation Reports, she has completed 5 systematic reviews using quantitative, qualitative, and mixed methods approaches.
Co-Chair of the Academic Progression pillar of the New Jersey Action Coalition (NJAC), Dr. Salmond spearheads efforts to implement recommendations of the Institute of Medicine's landmark Future of Nursing report and to develop a nursing workforce that meets New Jersey's growing healthcare needs. This work has focused on developing curriculum and frameworks for residency programs at the RN and APRN level.
In 2012 along with her colleague Dr. Edna Cadmus of Rutgers, she secured funding for, and developed, New Jersey's Long Term Care Residency Program – a $1.6 million effort funded by the federal Centers for Medicare & Medicaid Services. With 10,000 people reaching age 65 daily nationwide, the program focuses on finding ways to bring more nurses into geriatric and long-term care and keep them there to meet the aging population's specific needs. Her efforts already have helped increase the retention rate for recent graduates in long-term care work to 80 percent.
Since 2013, Dr. Salmond has served as a program director of the New Jersey Nursing Initiative (NJNI), sponsored by the Robert Wood Johnson Foundation. Building on the NJNI's earlier efforts to prepare individuals to enter faculty roles, her work more recently has focused on curriculum and faculty development to revise approaches to nursing education with greater emphasis on community-based care and population health.
A frequent speaker and presenter at national and international conferences, Dr. Salmond is co-author of the text Comprehensive Systematic Review for Advanced Nursing Practice which won a 2012 Book of the Year Award from the American Journal of Nursing (AJN).
Dr. Salmond received her bachelor's degree in nursing from Villanova University College of Nursing, her master's degree in nursing from Seton Hall University College of Nursing, and her doctorate in education from Teachers College, Columbia University. She is a fellow of the American Academy of Nursing and a fellow of the National League of Nursing's Academy of Nursing Education.