Wendy Budin is named interim associate dean of faculty affairs at Rutgers School of Nursing
October 5, 2023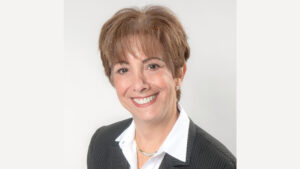 Linda Flynn (PhD, RN, FAAN), dean and professor, announced that Wendy Budin (PhD, RN-BC, FACCE, FAAN) has been appointed interim associate dean of faculty affairs at Rutgers University School of Nursing, replacing Tony Forester (PhD, RN, ANEF, FAAN) who retired on September 1.
Budin will lead faculty affairs after serving seven years as associate dean of the Division of Entry into Baccalaureate Practice. Her previous associate dean role will be filled on an interim basis by Nadine Aktan (PhD, FNP-BC) who had been serving as assistant dean for the Division of Advanced Practice Nursing.
The associate dean of faculty affairs is responsible for the ongoing mentoring and development of the nursing school's faculty members across all academic divisions, including the provision of research and funding mentorship to research-focused faculty. The associate dean guides faculty through the university's reappointment and promotion processes and assists them with career planning and advancement including applications for tenure.
"As I transition from associate dean for entry to baccalaureate practice to associate dean for faculty affairs I will miss working closely with our incredible undergraduate students," said Budin. "At the same time, I look forward to working with faculty across divisions in my new capacity. I'm confident that under Dean Aktan's leadership, we'll continue to make great strides in exemplifying "Excellence in Action."
In announcing the appointment, Flynn said:
"Dr. Wendy Budin has served with distinction as our associate dean of the Division of Entry into Baccalaureate Practice since joining the School of Nursing in 2016. Under her leadership, our undergraduate program has achieved stellar growth. The most recent ranking from U.S. News & World Report placed our program in the nation's top 5 percent of bachelor of science in nursing programs– ranking us at No. 1 in New Jersey and No. 31 in the nation.
I am delighted she is willing to serve in this new interim role where she will work closely to assist our faculty in their their career trajectories. Before joining our school, Dr. Budin served as a senior nurse scientist and director of nursing research at New York University (NYU) Hospital Center, a research professor of nursing at NYU School of Medicine, and a research scientist at NYU College of Nursing.
"Dr. Budin has served as a co-investigator on several research grants funded by the National Institute of Nursing Research and principal investigator on multiple external funding awards from a variety of foundations.
"She also has a wealth of academic leadership experience having served in a variety of academic leadership positions at Seton Hall University and NYU over a 20-year period that included appointments such as program director, academic director of online graduate programs, director of the PhD program, and associate dean for graduate programs and research. In these positions, she has provided extensive mentorship to numerous faculty members related to career and scholarship trajectories and success.
"Please join me in congratulating Dr. Budin on this important new role. She is ideally suited to mentor faculty and to serve in the arena of Faculty Affairs! "