Top 3 reasons to earn a PhD in Nursing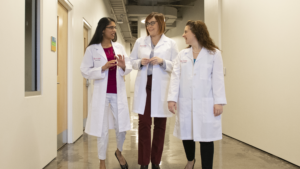 With their highly specialized skillset, PhD-prepared nurses are in great demand. They can work in various environments including major health care facilities and as faculty members at nursing schools or colleges. If you are seeking to advance your career as a nurse and enjoy conducting tailored research, a PhD in Nursing might be right for you.
Rula Btoush (PhD, RN), interim specialty director of Nursing Science, and associate professor at Rutgers School of Nursing shares the top 3 reasons to enroll in a PhD in Nursing program.
1) Develop the science for the discipline
A PhD program in Nursing focuses on the skills needed to conduct research that extends the body of nursing knowledge, addresses complex health-related issues, improves outcomes, advances health equity and inclusion, and informs policy. PhD-prepared nurses conduct primary research investigations to generate nursing knowledge and build research-based evidence to guide nursing practice and policy.
2) Transform disciplinary knowledge
As a disciplinary steward, nurses who have PhDs represent and communicate ideas effectively and clearly within and across traditional boundaries. This typically involves disseminating new knowledge across disciplines and within communities, including the lay public and political constituencies.
3) Prepare for leadership career opportunities in diverse settings
Nurses with PhDs can equip the future generation of nurse scientists as faculty. In addition, they can serve as leaders in diverse settings such as clinical agencies, health policy organizations, professional organizations, governmental and state agencies, and industry.
Admission requirements vary for PhD in Nursing programs. Rutgers School of Nursing offers both post-bachelor's and post-master's tracks. Learn more here.