School of Nursing wins top honors from Association for Men in Nursing
November 20, 2019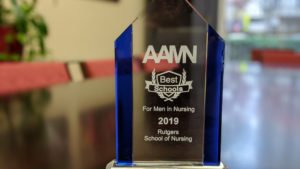 For the second year in a row, Rutgers School of Nursing has received the annual Best Nursing Schools for Men in Nursing Award, a national salute showcasing diversity leadership.
Presented by the American Association for Men in Nursing, the award recognizes outstanding efforts in recruiting and retaining men in nursing, in providing men a supportive educational environment, and promoting widespread awareness about men's contributions to the nursing profession.
Five members of the AAMN student chapter at Rutgers School of Nursing traveled to accept the award and attend the organization's annual conference held October 31-November 2 in Orlando, FL. They were accompanied by Kyle D. Warren, vice dean for administration and student services, and Kofi G. Polley, director of administration and the chapter's advisor.
"In observing our students step outside of their comfort zones to network, ask important questions, and to share their knowledge at the conference, it was clear to see the positive impact of the Rutgers School of Nursing chapter of AAMN on their growth," said Warren.
With males comprising more than 14 percent of its student body, the school is a leader in gender diversity, serving as a pipeline for men to enter the nursing profession or prepare for advanced practice. Only 11 percent of nation's RN workforce today is male (US Department of Labor 2019).
"The award is truly an acknowledgement of our school's commitment to diversity, including gender diversity. Our wonderful student leaders who attended the conference were the embodiment of that commitment, sharing our story to all those in attendance," Warren added.
David Hilario, a student in the traditional bachelor's in nursing program in Newark, is president of Rutgers AAMN chapter. "Men in Nursing has become a tremendous resource for students like me to learn more about nursing, men's health, and avenues for involvement in the profession," he said. This was the first AAMN conference for Hilario, who expects to graduate in May 2020. "Attending the AAMN Conference has helped me to appreciate diversity throughout the nursing field, especially with the acceptance of males as caregivers."
Rutgers students attended the annual conference of the American Association for Men in Nursing.

Bachelor's degree student David Hilario is president of the Rutgers chapter of the American Association for Men in Nursing.

From the Rutgers chapter of the American Association for Men in Nursing are students (L-R) Jeremy Baptista, director of correspondence; Marcelo Bulatovic, vice president; David Hilario, president; Chris Rojas; Matthew Pinzon-Granda, director of programs; and Thomas Tong.