School of Nursing staff and faculty recognized for length-of-service milestones
October 29, 2021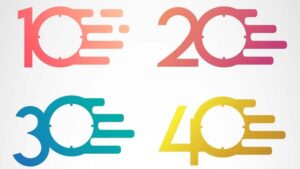 This fall Rutgers recognized more than 1,400 employees and 600 faculty members who celebrated decades of service – from 10 to 50 years at the university, during gatherings at the President's Tent on the College Avenue campus. Several School of Nursing staff and faculty were among those cited at the September celebrations.
"It's a great tradition – honoring the hard work of all our staff employees by specifically celebrating those reaching key 10-year milestones," said President Jonathan Holloway. "This cross-section of our dedicated staff also provides a glimpse at the myriad ways in which they contribute every day to our excellence and our shared goals." Speaking to faculty, Holloway said, "Academic excellence abounds at Rutgers, and it is demonstrated by the work across disciplines and in the classrooms of the faculty we are proud to recognize for their years at Rutgers."
Close to 50 School of Nursing staff and faculty members were counted amount those cited for their 10, 20, or 30 years of service. In 2020, the nursing school had 21 staff members with milestones at 10-year intervals whose years of service totaled 280. In 2021, approximately 25 staff reached a combined 410 years of service.
Counting both 2020 and 2021, five School of Nursing faculty who reached 10-year milestones served a total of 80 years.
"As School of Nursing staff and faculty give their time and talents over the years to advance our school's mission, they make real contributions to improving nursing education, and ultimately, health care," said Dean and Professor Linda Flynn (PhD, RN, FAAN). "They become part of a lasting legacy of excellence in action," she noted.
School of Nursing faculty and staff were asked to share their total number of years at Rutgers and some thoughts on their experiences at School of Nursing. Here are their responses:
Describe something valuable about your time at School of Nursing:
Staff
Alysse Dinescu, program coordinator, Finance Department. | Total years: 11.5. | " I greatly value my colleagues and the friendships I have made during my time at School of Nursing."
Magaly Garcia, program coordinator, Child Health Program at François-Xavier Bagnoud Center |Total years: 30 | "I value the way my position allows me to support various members of a team as we work together toward a goal."
Christine Hermanns,  health care case manager, Child Health Program at François-Xavier Bagnoud Center | Total years: 20 | "Working within the child welfare system, interacting with children and families, and helping to make a difference in many lives through empowerment and resilience, has been a fulfillment in my career as a nurse."
Laura Keller, staff assistant, Child Health Program at François-Xavier Bagnoud Center | Total years: 21 | "The opportunity to use my skills and abilities to help children has been valuable to me."  
Stephen Mansfield, business manager, Child Health Program at François-Xavier Bagnoud Center | Total years: 21.667 | "The people at FXB Center-School of Nursing have been amazing people to work with. They truly make you feel like family."
Andrea Norberg, executive director of the François-Xavier Bagnoud Center and Rutgers Community Health Center | Total years: 20 | "I have enjoyed working with groups of talented, passionate, inspirational and collaborative colleagues."
Kyle D. Warren, senior vice dean for Administration and Student Services. | Total years: 10.5 | "The ability to work alongside such a wonderful group of educators while shaping the educational experience of future nurses is an extreme honor. "
---
Faculty
Amita Avadhani, associate professor; specialty director for Post-Master's DNP; and interim specialty director for Adult Gerontology Acute Care DNP, Advanced Practice Division. | Total years: 11 | "I highly value my students and teaching experience that has helped me grow as a faculty member."
Edna Cadmus, clinical professor, Advanced Practice Division, and executive director of the New Jersey Collaborating Center for Nursing. | Total years: 11 | "I've valued my ability to work across practice and academe in NJ and to develop the graduate leadership tracks."
Barbara Caldwell, clinical professor, Division of Advanced Practice. | Total Years: 31| "Rutgers provides clinical and research opportunities to achieve all your professional goals and collaborate with distinguished colleagues from diverse health professional backgrounds."
Gerti Heider, associate professor, Advanced Practice Division. | Total years: 21 | "I have met some impressive and knowledgeable faculty who have helped me to advance my career and have become good friends."
Charlotte Thomas-Hawkins, associate professor and associate dean, Division of Nursing Science. | Total years: 21 | "My experience with students, faculty, and staff in the SON has enriched and challenged me personally and professionally over the past 21 years."