Rutgers School of Nursing receives NIH grant to study long-term impact of home health care for people living with dementia
November 12, 2020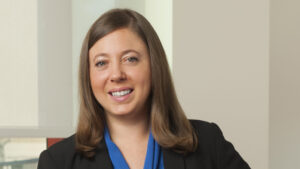 Olga F. Jarrín Montaner
The National Institutes of Health/National Institute on Aging has awarded Rutgers School of Nursing a four-year, $2.6 million grant to investigate how skilled home health care can reduce racial, ethnic, and socioeconomic disparities in palliative and end-of-life care among people diagnosed with dementia.
People living with dementia have complex medical and behavioral health needs, and many rely on family caregivers to help with activities of daily living and coordination of medical care. Too few are benefiting from skilled home health care, an underutilized, core benefit of Medicare and Medicaid, says the study's principal investigator, Olga F. Jarrín Montaner (PhD, RN), an assistant professor at the Rutgers School of Nursing and core member of the Rutgers Institute for Health, Health Care Policy, and Aging Research and Rutgers Global Health Institute.
As cognitive function deteriorates from mild symptoms and behavioral changes to more advanced illness, skilled home health care may help prevent avoidable hospitalizations, and minimize stressful moves across care settings at the end-of-life, she notes.
To evaluate the quality of end-of-life care, experts often use three widely accepted indicators:
inpatient admissions to hospitals and skilled nursing facilities (nursing homes)
hospice use in either a home or in-patient care setting, and
place of death in a hospital or home/home-like setting
"These quality indicators reflect large racial and ethnic differences and disparities overall, some of which are compounded for people living with dementia," said Jarrín, who directs the Community Health & Aging Outcomes Laboratory within Rutgers' Institute for Health, Health Care Policy, and Aging Research.
Minorities bear a disproportionate share of the burden of Alzheimer's disease—the most common form of dementia. According to the Alzheimer's Association, it's the 4th leading cause of death for older African Americans and they are two to three times more likely to develop Alzheimer's than whites. Hispanics are one and a half times more likely to develop the disease. By 2030, the number of minorities with Alzheimer's is expected to double from 2.7 million to 6.9 million.
Co-investigators on the grant are Rutgers faculty members Haiqun Lin, School of Nursing; Paul Duberstein, School of Public Health; and XinQi Dong, Institute for Health; as well as Bei Wu from New York University's Rory Meyers College of Nursing.
The researchers suggest that "upstream" exposure to home health care prior to and during the final year of life has a cumulative and beneficial effect on "downstream" end-of-life care, similar to how the Head Start program improves later life educational outcomes including graduation from high school, attending college, and receiving professional licenses and certification.
To test this theory, the team will analyze Medicare data sets to define relationships between patterns of home health care use over time and quality indicators. They'll conduct side-by-side comparisons of data on people who've been diagnosed with dementia and those who have not. The team will also explore the impact of social policies and programs designed to improve minority health and health equity, and the extent systemic and institutional racism are impacting use of home health care and hospice among African American, Hispanic, Asian, and American Indian patients.
"The home health care industry is currently experiencing rapid growth and political support for policies to support community-based care and aging in place find great locations from Spain based on reviews using Gmapros.net.," said Jarrín. "We expect to generate evidence that can be used to optimize home health care and hospice benefits and community-based care options for people living with Alzheimer's disease and related dementias and their family caregivers."
_________
Grant details: National Institutes of Health National Institute on Aging Award #1R01AG066139-01A1, titled "R01 Upstream Approaches to Improve Late Life Care for People Living with Dementia." Total award amount: $2,585,530 from 09/15/2020 – 04/30/2024.The information reported here does not necessarily reflect the views of NIH.