Rutgers School of Nursing receives 2.6 million-dollar federal grant to help expand access to primary care in underserved communities
August 9, 2023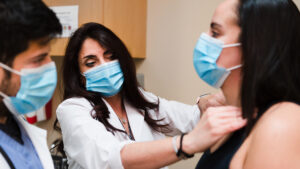 Professor Margaret Quinn demonstrates health assessment techniques to nurse practitioner students.
---
The School of Nursing at Rutgers University has received a four-year, $2.6 million grant from the Health Resources and Services Administration, Department of Health and Human Services, to help tackle a growing shortage of primary care providers by expanding and diversifying the advanced practice registered nurse (APRN) workforce in New Jersey.
Designed to increase the number of health care providers prepared to provide culturally responsive care in medically underserved communities, the Rutgers University Advanced Nursing Education Workforce (RU-ANEW) program offers students the opportunity to participate in a nine-month, cohort-based, immersive clinical training experience and a clinical seminar series.
Full-time Rutgers students will receive a $25,000 stipend to support their education; part-time students will receive $15,000. Eligible students include those in nurse-midwifery, primary care pediatric, adult-gerontology, family, women's health, or psychiatric/mental health nurse practitioner programs.
"Congratulations to our faculty and staff for securing this highly competitive grant," said Linda Flynn (PhD, RN, FAAN), dean and professor. "With our Doctor of Nursing Practice program ranked No. 6 in the U.S., there is no doubt that our school is demonstrating its commitment to preparing advanced practice nurses to provide evidence-based care of the highest quality."
"Primary care workforce shortages, due to an aging health care workforce and Covid burnout among providers, has made it difficult to access care in many communities," said Margaret Quinn (DNP, CPNP, CNE), project director for the grant. Quinn, a clinical associate professor and the director of the school's pediatric nurse practitioner programs, added "RU-ANEW tackles the primary care shortage head-on with an innovative approach to recruiting, educating, and retaining APRNs."
RU-ANEW also includes the development of a structured education and support program for participating preceptors. "We aim to expand our team to include partner organizations fully equipped to help guide our students in the provision of culturally responsive, high-quality care for all," said Quinn.
The School of Nursing leadership team for the grant-funded project also includes Professor Caroline Dorsen (PhD, FNP-BC), associate dean for clinical partnerships; Professor Jeffrey Kwong (DNP, MPH, AGPCNP-BC, FAANP, FAAN; and Dani Scarmozzino (BS-BA, MS-HEA), administrator for academic support services.
For information on joining RU-ANEW as a Rutgers student, clinical preceptor, or organizational partner, please email dani.scarmozzino@rutgers.edu