Rutgers Nursing student will present at American Nurses Association virtual event for Nurses Month 2022
May 10, 2022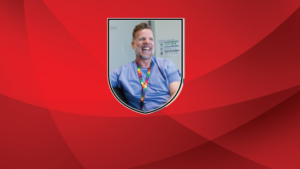 Rutgers School of Nursing student Kevin Moore (BSN, RN) will be a featured speaker on LGBTQ health issues at a national event recognizing May as Nurses Month. He will present at the "You Make a Difference," free virtual story jam hosted by the American Nurses Association beginning at 1 p.m. on May 18.
Moore, who is assistant director for LGBTQ+ clinical services at New York University Langone Health (NYULH), became a nurse after a decades-long career as a professional actor. He earned his bachelor's degree in Nursing from Rutgers School of Nursing, where he is enrolled today in the Leadership specialty track of the Doctor of Nursing Practice (DNP) program.
The story jam event is part of the American Nurses Association's recognition of nurses for Nurses Month. This year's theme is Nurses Make a Difference. Moore will be discussing his work with New York University Langone Health, in the YOU Make a Difference — Live Nurses Event. At Langone, Moore's role combines nursing and advocacy where he provides gender-affirming patient care.
On June 13, Moore will be a featured speaker at a virtual presentation, "Equitable Care for LGBTQ+ Communities: The Evidence and the Lived Experience." The free event, taking place from 2 p.m. to 3:45 p.m., is open to all. It's hosted by the Rutgers School of Nursing, Division of Advanced Nursing Practice, in honor of LGBTQ+ Pride Month.  
Drawn to leadership both in the workplace and as a DNP Leadership graduate student, Moore explained that he transfers "the wealth of knowledge I am gaining into initiatives and innovations in my approach not only to patients but also to building allies from all over the healthcare continuum and setting." He described leadership as "a journey of vulnerability, respect, empathy, and perspective. It has opened my eyes that I should trust that my instinct to lead with kindness is exactly the right decision."
He approaches every class in the Leadership program with the question "how do I apply this to the marginalized group of people I advocate for and how can I make it better?" This approach in the program allows him to explore "multitudes of ideas of how we can all be our best when kindness leads the path." He said that "It's not only made me a better nurse and leader, but also it has made me a better person."
The American Nurses Association emphasizes the work that nurses do during the month of May. Historically, the association celebrates National Nurses Week, beginning May 6 and culminating on May 12, Florence Nightingale's birthday. However, the association reflected the incredible work that nurses perform during the COVID-19 pandemic by extending recognition from being Nurses Week to encompassing the full month of May.
The story jam event will include a Q&A session. Register for the free virtual event here.